FTC places second at Worlds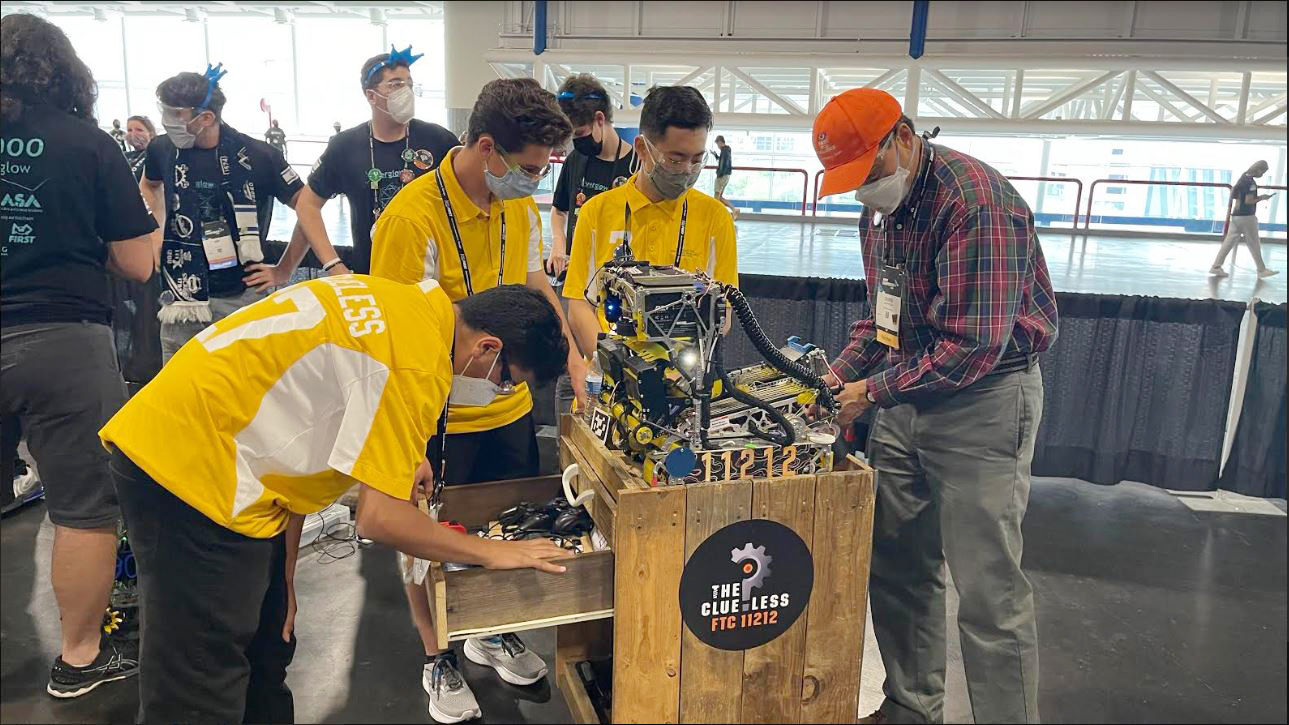 Although April 17 was Easter Sunday and his 18th birthday, first and foremost for Toby Sagi (12), April 17 was also two days away from the FIRST Tech Challenge (FTC) World Championships. He had already spent multiple sleepless nights fine-tuning his team's robot and refining its code, and he wasn't ready to give up now. 
"I spent six and a half hours on my birthday working on the robot," Sagi said. "And then after that [my team] had a full team meeting to practice our presentations."
At Worlds, which took place in Houston, over the course of three days this year, 160 international FTC teams competed in a series of qualification matches. At the same time, they were also judged on both hard and soft skills, such as robot design and programming, community outreach, and team leadership. The highest-scoring teams in the tournament advanced to the final robot matches, where their robots competed against each other to complete a series of tasks for points.
As co-captain of The Clueless, a garage-based FTC team made up of Poway Unified students, Sagi said he was especially grateful for the opportunity to compete at Worlds since his team had been unable to compete at that level for the past two years due to COVID-19.
"For a lot of the seniors and now for the new members too, they had never even gotten the chance to go to Worlds before this year," Sagi said. "We all really wanted to go for the past two years, so actually being able to compete this year and meet a bunch of teams from around the world meant a lot." 
According to Sagi, his responsibilities as coach of the drive team—the group of members who are in charge of controlling the robot— added to the pressure of the competition. 
"I'm super involved in the robot's actual performance, which made Worlds that much more stressful," Sagi said. "There were a lot of late nights and early mornings. At the actual competition, I would stay up until 1 a.m. almost every night and then would wake up at  6 a.m. so that we could test things early in the morning before qualification matches." 
Similarly for Alex Battikha (9), another member of The Clueless driving team, the pressure to perform well as a driver made the overall experience of Worlds more stressful. However, Battikha said that being a driver has forced him to learn to communicate better with his fellow drive teammates, and that the stressful environment at Worlds brought them closer together. 
"I really enjoy [being a driver], but at the same time, it's kind of nerve-wracking," Battikha said. "There's a lot of pressure on me to not screw up anything while controlling the robot. But overall, I think being a driver has really shown me how to communicate effectively with Toby and our other driver, Hudson. I think we three are like the dream team. We bonded really well at Worlds." 
However, on the second day of the competition, the team's communication skills were put to test when their autonomous program began to crash on the practice field. With so little time between test runs and the actual competitions that day, The Clueless was forced to sit through their matches while holding their breaths. 
"At that point, we had the best autonomous in the world, so to hold that title and then to have it crash for a full 20 seconds during every test run was devastating," Sagi said. "We just had to go to the actual match field not knowing what the problem was and just hoping that it didn't crash." 
After getting through the first day of qualification matches with only one in-competition crash, The Clueless members immediately began trouble-shooting. After ruling out WiFi issues, miswiring, and an operating system failure, the team was finally able to pinpoint the source of the crash in the robot's code. 
"I think we did a really good job of just working together and being persistent to figure out the crash issues," Sagi said. "And when things weren't going how we would've hoped, we just tried to focus on what we could do well." 
With freshly updated code and having advanced to the semi-finals, The Clueless was ready to compete in the alliance rounds, where the final four teams compete against each other in teams of two. 
According to Batthikha, getting the chance to collaborate with and compete against FTC teams from all over the world was one of the highlights of his experience at Worlds.
"I had no idea how diverse FTC was," Battikha said. "We met so many teams from all over the world that we had previously looked to for inspiration, and it was also really cool when those same teams would come up to us and say they had watched our videos on Youtube as well."
After advancing past the elimination rounds, The Clueless ended up placing second overall in the final round of the competition. 
Although his team wasn't able to take home first prize, Sagi says he's still proud to have placed so highly in the competition and that he feels that all their hard work paid off. 
"Just looking back at the beginning of the year, we set a goal to play in the first round of the elimination matches, so I'm happy that we not only met our goal, but we surpassed it," Sagi said. "Although Worlds was really stressful, it was all worth it in the end."