Arciaga places third nationally in first year of track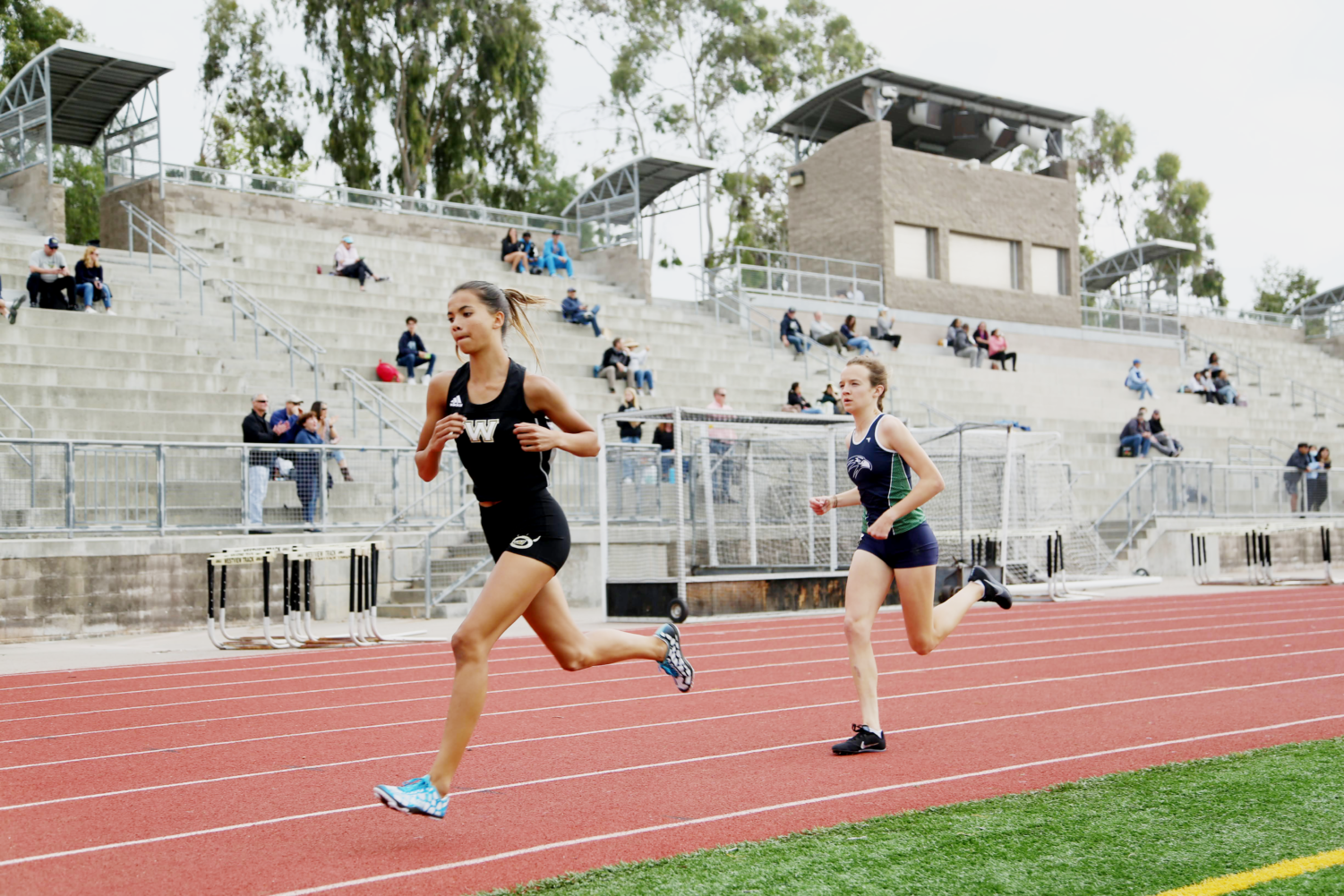 When Kaitlyn Arciaga (9) won her first one-mile race in track, two girls stayed in front of her for the majority of the race until the end, when Arciaga was able to sprint past them and win.
"There were two girls in front of me and they were kind of running like almost next to each other and I was running behind a couple of feet," Arciaga said. "I didn't want to go too fast as it was my first race and I didn't know how I was going to feel after like the third lap. Then, at the very end, when you're supposed to start sprinting to the finish line, I was just like 'I have to sprint, I have to beat her because I can't lose to her.' So I ran ahead of them and beat them, ending with a good mile time, that being my PR right now." 
Despite joining the track team three weeks into the season, Arciaga has quickly established herself as a dominant runner.
Nationally, Arciaga is placed third for freshmen in the 800-meter run.
"My favorite record is probably when I ran my 800; it was a 2:18 time," Arciaga said. "I went to invitationals at [Rancho Bernardo], which you have to qualify to go to, so if you get a certain time you can go to the invitational. The cool thing about invitationals is that you get medals if you place, and I just thought that it was really exciting." 
Arciaga's main event is the 800 and her first-ever race was the 800. Even though it was her first time running for a track team, she was able to run it with a time of 2:27. As she continued running and trying different races, her times became better and advanced to lettering times. 
"I didn't know at the time that it was a pretty fast time; I thought it was like a normal time," Arciaga said. "My second race was a four-by-four, which is a relay, but my time was a lettering time so after that, I was put in a bunch of different events." For each one, she earned a varsity letter and an all-time, top-20 time at Westview.
With her recent performance during the distance medley relay, Arciaga helped her team qualify for Arcadia, the biggest meet of the season.
"We had to get under 13 minutes to go to Arcadia and we did, placing second," Arciaga said. "I'm excited, I've heard many stories such as coach Sean singing on the entire way there, and that we get to stay in hotels and stuff, so it all seems really fun to me." 
Arciaga said that being one of the youngest on the team puts her in an awkward position.
"Obviously, you're still growing and stuff and you haven't reached your top potential yet, but what you're doing now sets the bar for your entire high school career and your entire running career," she said. "So I guess, the pressure to do good is more to see what you're going to be in the future and to see how much you've improved." 
Prior to this year, Arciaga's only race experience had been in middle school where she ran four races for cross country. But, despite the lack of experience, teammate Madeline Mcfarland (12) said she sees major potential in Arciaga. 
"After her first track meet, I already knew she was going to be a natural at running," Mcfarland said. "I can definitely see her going to States this year and every year to come after. She has a very bright future ahead of her for her high school track career and I'm always joking that she has the potential to possibly run in the Olympics someday at the rate she's at."