Gymnastics sweeps Del Norte in all four events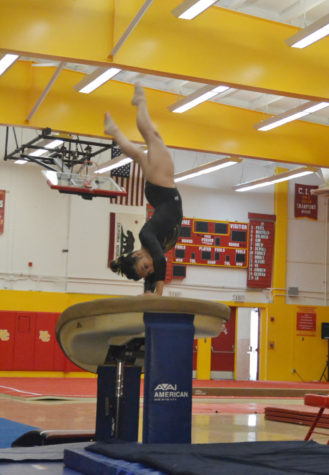 The gymnastics team defeated Del Norte in all four events, at Mt. Carmel High School, April 1, by a score of 216.75-207.625. The team was able to strike down the Nighthawks in vault, bars, beams, and floor, winning in not only individual but overall scores.
Optional gymnast Kaya Nepomuceno (10) said the team performed better than their first meet and hopes to propel that momentum into the rest of the season.
"Compared to the first meet, we had the whole team there, and because we had a full team, we were able to put up a higher team score," she said.
Similarly, compulsory gymnast Spring Jo Salazar (12) said that the competition went extremely well, especially for her first meet since her sophomore year.
"I felt pressure to do well since I skipped out on the first meet [because] I had a cold," she said. "The last time I competed was on JV and I didn't really have room [for mistakes]."
Salazar ended up performing exceptionally well, scoring a 9.4 out of ten on her floor routine and a 9.35 on her vault performance.
"I was really surprised, but also happy with myself since I started late but was able to get my skills back really quickly," she said.
Salazar said that despite the first-meet pressure, she was prepared for her events and was able to not let her nerves get to her.
"Before starting a vault or beam I always feel pretty comfortable with my skills and it helps me perform better," she said. "For floor, I always map out and go through the routine in my head and it's especially helpful in getting me comfortable in a different setting."
Similarly, Nepomuceno said that she also utilizes visualization before her events.
"My dad taught me to close my eyes and take three deep breaths when I was young because sometimes I forget," she said. "Visualizing what you want to happen in your routine is most likely to [make] it happen.
Nepomuceno also said that being nervous is always normal, but there is a way to overcome it and use it to your advantage.
"Sweaty hands and feet, shaking, and not being able to breathe are huge side-effects of nerves," she said. "When all these things are going on, there is a higher risk for injury so it's important to stay healthy and know how to stay calm during a meet."

The coaching staff also was able to not only train the athletes but forge bonds and stand as supportive figures in the gymnasts' careers.
"I feel a majority of us feel comfortable telling our coaches when something is wrong, because communication is key, especially in a team sport," Salazar said. "If you can't do something, someone has to pick up your slack and so communication is very important, especially since our team is small."
Nepomuceno said that the coaches are always there for their athletes, even when things go sideways or when mistakes are made during the competition.
"Coach Linh was there to help me out after my fall [during my routine] and told me to get up and finish," she said. "I've fallen a fair amount and I used to be a mess and sometimes even cry [when I was younger] but now I know I was still making a contribution to my team, so it was easy for me to stay calm."
Salazar said she has high hopes for the season and believes that they have a really good shot at winning the CIF championship title.
"The meet I was gone we beat La Costa Canyon and they're usually the ones who win CIFs," she said. "We barely beat them, but we also were down three really good gymnasts so we're very hopeful to win CIFs this year."
Nepomuceno shares the same enthusiasm and is confident in the team's ability to perform well and continue to win meets.
"I think this year [we are] super strong and have a really great opportunity to place in CIFs," Nepomuceno said. "I hope to get higher scores and am extremely excited for [our team] to be able to have a full season again.