Recycling Program Back at Westview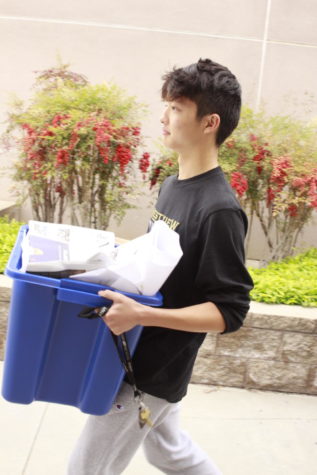 In recent years, recyclables thrown out by Westview students and teachers have usually been mixed in with trash and sent to the landfill. According to Custodial Supervisor Art Wolfe, eight previous attempts at starting a recycling program have been tried and failed.
Despite this unsuccessful history, last month, ASB began another recycling program, one which they hope to sustain. 
ASB Secretary Josh Yang (10) advocated for starting the program. To him, it didn't make sense for such a large place like Westview to not have a recycling system.
"Just seeing all the material that should be recycled but is instead dumped into the trash cans on campus [felt wrong]," Yang said. "I thought if residential homes have recycling, so should a school, especially considering the massively larger amount of material that we have to recycle."
Since the program is in its early stages, ASB adviser DJ Sosnowski said he thought it best to start off simple.
"[We thought] 'let's start small," he said. "Let's figure this out.' So that was why we started with paper. We knew paper was easy. We knew that it wouldn't make a mess in the classrooms or in the inner hallways, there wouldn't be spills, there wouldn't be ants and that sort of stuff."
The present ASB representatives are not the first group to attempt recycling at Westview. According to Wolfe, many people have tried to start a recycling program in the past. In one attempt, Wolfe used custodial funds to purchase blue recycling bins with wheels, just for students to fill them with trash. 
"The district had wanted to do a whole recycling program, and they wanted to put it on [my custodians]," Wolfe said. "I [told them], 'No, my guys cannot do that. They're way too overtaxed right now.' We should have at least 10 regular custodians here, and I've got five plus one that works part-time at night. It's just more than my guys can handle."
This time, ASB decided to take on the task themselves.
Coordinating the logistics of this initiative included buying recycling bins. Yang purchased six blue tubs with the recycling symbol using $116 of ASB's funds. According to Sosnowski, the purpose of these particular bins was for them to be recognizable to students and staff. 
Currently, the bins are located in the indoor hallways between classrooms. Every Friday morning, ASB students collect the bins and take them to the trash bay where the paper is dumped into a larger recycling container. At least three times a week, this recycling dumpster is emptied by a garbage truck and transported to the recycling center. 
Yang said he hopes that this process continues to go smoothly and even improve. 
Based on Yang's intentions to expand the recycling program to collect students' recyclables, Wolfe said he suggests that Yang reach out to him to help improve the program.
"The first thing is don't give up on the program," Wolfe said. "If you're dedicated to it, then stay dedicated to it. And ask for help, because everybody would like to see more stuff get put in the proper place and not just [polluting] the planet. We'll do anything we can to help the kids with their recycling program, but they need to monitor it. If we have [recycling] cans out [during lunch] then we just need students [monitoring them] and going like 'that can't go in here, that goes here.'"
Wolfe also said he wants to share the materials Westview already has with ASB. Due to a lack of communication, currently, 20 rolling recycling bins are not in use by either ASB or the custodial staff.
As the wrinkles in communication get ironed out, Yang said he is looking to include eager students in the program.
"A lot of the student body has reached out to me since they want to help with recycling," Yang said. "So as this program proves to sustain itself after first starting with teachers and paper, we can definitely start expanding [our] horizons."
ASB students also plan to reach out to Advocates For a Better Environment (ABE) for help expanding the program. Yang said that he would like the recycling process to be carried out mainly by students to not add to the jobs of the understaffed custodial crew. 
As of right now, Yang said he believes that ASB's work is already making an impact on the school and its recycling practices.
"The bins are really filling up, which is a good thing showing that teachers notice them and are using them," Yang said. "So I'd say it's going pretty well."