Sports siblings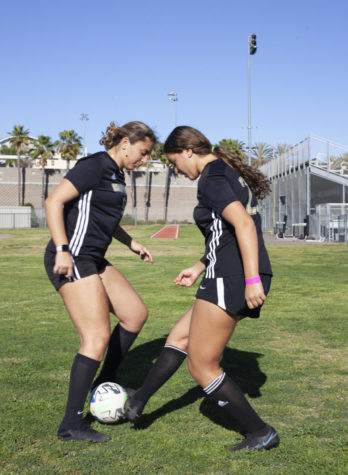 Looking back at photos from when Layla Salem (9) and Mariam Salem (11) were in their first year on the same club soccer team in 2014, Mariam can be seen pointing and bossing around Layla as they play. 
Starting on a rec team then moving on to playing on the same club team and joining Westview's soccer team both on varsity, Layla and Mariam have been playing soccer together since they were little and have been inseparable on the field. 
"I think in general since we go to the same high school now, we've gotten closer and it's like a full-circle moment," Mariam said. "We started soccer at the same time and then our soccer careers drifted a little bit but now are on the same team again experiencing the same things." 
Since they've played together for so long, both sisters notice the improvement and change in each other throughout the years they've played. 
 "Layla has improved a lot, mostly, mentally in her attitude," Mariam said." When she was little, I would describe her a little bit as a 'poor sport,' but as she got older, she's learned to be a better teammate, a better leader, and overall just grew individually as a player, which made her actual physical ability get better too."
Layla also agrees that her sister progressed in her abilities as time passed by. 
"I think that Mariam started working a lot harder," Layla said. "Her ball skill and being able to move the ball has gotten a lot better. And also her ability to believe in herself got better as she grew up."
Similarly, Rowan Sutherland (9) and her sister Payton Sutherland (11) have been playing sports together for years. For them, the game is lacrosse, which both have played since elementary school. Now both on varsity, the two enjoy playing together.
Rowan said that while it's fun to do combo plays together and work together, sometimes when you're on the same team as a sibling, you get compared. 
"When you're alone, you're kind of like your own person but right now I'm kind of like, 'Oh, I'm just Payton's younger sister,'" Rowan said. "They'll say like, "Payton had a really great goal, but she kind of flubbed it.""
Rowan says she feels that she has a big shadow to fill.
"I've been putting a lot of pressure on myself to be as good as her so I guess it's a positive thing since I'm working harder than I ever have so that I don't disappoint her or my coaches or my parents," Rowan said. 
Despite feeling like a mini-Payton, Rowan and Payton both appreciate their time together on the team. 
 "There's always been really great chemistry on the team and there still is, but for me personally, it's great to have that support coming from familial ties," Payton said.
Mariam started the season with a broken collarbone and was unable to play for half of the season. That made it difficult for her to come back and gain confidence in playing after everyone had already been out there. 
"I think having Layla there to support me gave me something to play for," Mariam said. "I wanted to make the most of the games that we had together, knowing that it was a shorter season this year. So it was a reason to come back stronger and make the most of what I had left of the season." 
Even though Mariam hadn't been able to play for half of the season, Layla's favorite memory of playing together came early in the year.
"It was my first game and she gave me a motivational speech and said 'I believe in you. Just go out there and do everything,'" Layla said.
Layla said that soccer is a big part of their lives and is very glad that they get to share that together.
 "With [Mariam] being a senior next year, I get to be on the same team and share that really important part of our lives and just beat our last game together," Layla said.
Mariam remembers a memorable time with her sister on the field from when they were playing in the league last season.
"From this past high school season, after I scored the winning goal for us to win League. Layle was the first one to come up to me and she gave me a big hug and she was like, "I love you!" Mariam said.