Athletes try to top their personal records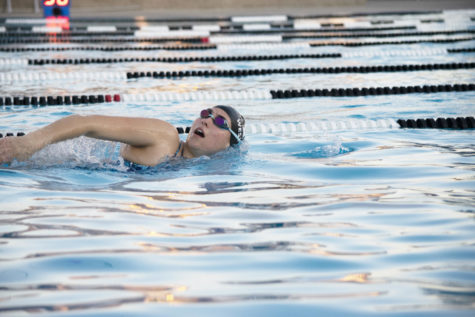 Being in a team sport, an athlete also has to set their own personal records (PRs) in order to lead the team to victory. 
But in the process of making their PR higher and higher there are some challenges.
After realizing that she didn't want to get hit by a ball while playing sports, swim captain Lily Andreani (12) started swimming. At Westview, she swims distance. Her personal record in the 500 freestyle is 5:24, which she set during the summer of 2020, at the Junior Olympics.
During her nine years of swimming she gave great amounts of effort to reach her long-distance goal, but is also striving to beat her personal record by eight seconds. 
"I felt pretty proud of myself [when I set my PR]," she said. "I also feel like I would have gone faster if I wasn't tired that day, but I was pretty happy with it.  That was a good way to end the season." 
In order to keep herself motivated during swim practices when tired, one of the main thoughts she likes to keep in her head is the thought of dinner. She said that this simple thought helps keep her spirits elevated.  
"It makes it less boring," she said. "Just thinking, so it is not swimming consecutively. Then, there are the types of days where I don't want to get up and go [to practice], but I go anyway because I have goals I want to reach and I know that I won't regret it after I swim."
Since establishing her PR, the closest she has come to beating it is 5:26. Although, there is only a two second difference, it is still frustrating to not be able to not see continuous improvement. 
Andreani said that she will work hard and keep competing to be able to beat that previous time and hopes to keep getting better. 
Meanwhile, sprinter and high jumper Alex Vilalta (12) got his interest for track and field by seeing it in the newspaper. 
He joined the track team his sophomore year and he said that he also had his own advantages. 
"Being tall is mainly one of the advantages," he said. "And watching people do it is awesome, so I want to be able to do it like them." 
Vilalta set his PR for  high jump of 5'4" during 2021. As he progressed he made a bet with one of his friend to see who could jump higher. 
"I bet my friend since we were jumping the same height," he said. "[Whoever lost] had to eat a bag of broccoli and I ended up jumping eight inches over my previous personal record." 
One of the main things Vilalta focused on doing is to keep a steady mindset. 
"I have to perform well in order to improve my personal best," he said. "And now I just keep going at it."
One of the main things that Vilalta is doing to improve his PR is to not give up and to continue to keep jumping. 
"You just have to keep going," he said. "It's something that is necessary to just keep going up. You're not always just going to be better." 
He spends hours training to exceed his PR, doing ab workouts and olympic lifts. He takes videos of himself and studies each individual move to see how he can get better. Since high jump is such a technical sport, he needs to analyze each phase of the jump daily. 
"It is fun to just enjoy what I have and keep doing just what I love to do," Vilalta says.
Vilalta continues to work hard no matter what comes in his way.
"I really love [competing]," he said. "I mean, obviously I want to do well, I want to win, I want to do all of that, but at the end of the day, I love jumping, I love working. It's something that even if I'm not winning, even if  I'm not [breaking my PR]. I know that I still love competing."