Trivedi speaks at International Extemp competitions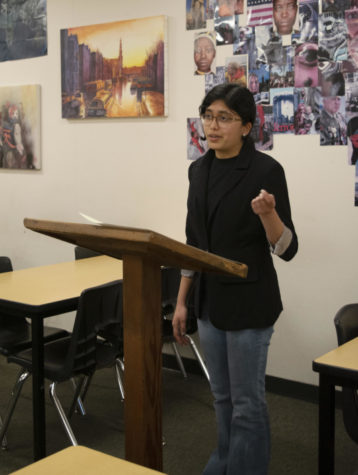 Every morning before school, Nirja Trivedi (10) opens her laptop to either The Washington Post, The Wall Street Journal, The Economist, Reuters, Foreign Affairs, Al Jazeera, or the BBC. Some days she opts for the Merco Press—a Latin American news source—and other days, The Japan Times and Yonhap News. She reads carefully for 30 minutes while annotating the articles in her Google Drive, committing events in global politics to memory.
Trivedi regularly competes in International Extemporaneous, a speech event where the competitor must choose one of three topic choices relating to foreign politics and economics. After choosing her topic, Trivedi has a 30-minute preparatory period to reference the articles and news she saves each morning before giving a seven-minute speech entirely from memory. Despite difficulties with the impromptu nature of the event, Trivedi says she enjoys it because she is able to have a bigger understanding of global affairs. 
"Extemp has definitely been a bit of a challenge for me because in prep, I have a plan for my speech," Trivedi said. "But in those seven minutes, I don't know what's going to come out of my mouth next. So it's really hard to feel like I have control, but being able to let loose and just enjoy speaking about something I'm passionate about has helped me be more spontaneous and improve my speaking skills, which is something I'll use for the rest of my life."
As a freshman, Trivedi started off with National Extemporaneous—a similar event that primarily focuses on national politics. 
"I started off in national extemp because I figured I knew more about U.S. politics than world politics," Trivedi said. "But the summer before sophomore year, I decided that I felt like it was more important to me to be more aware about world politics because there isn't as much news on that." 
In national extemporaneous, Trivedi placed fourth in the San Diego Imperial Valley Speech & Debate league on two separate occasions. After moving to International Extemporaneous, she placed fourth in the Bargain Belt Invitational, second in the Riverhawk Invitational, and two weeks ago, she reached the quarterfinals of the James Logan Martin Luther King Jr. Invitational. 
As the only Westview student competing in International Extemp, now conducted virtually due to COVID-19, Trivedi said it's more difficult to receive feedback for improving her own speeches. 
"It's also been hard because sometimes there isn't very meaningful feedback from the judges because they keep their cameras off in the Zoom room," Trivedi said. "I got a lot of comments where judges were like 'Great job,' so it was hard for me to know what to improve on. Many tournaments also have a 'no spectators' rule, so all I knew was what I was saying, and I didn't really get to know who I was competing against."
Despite frustrations competing over Zoom, Trivedi has made improvements with the help of speech captains Rayyan Nasser (12) and Neel Singh (12). She said that practicing in front of her parents, other members of the speech team, and her captains has allowed her to receive valuable feedback and improve her impromptu speaking skills. 
Through the experience Trivedi has gained both practicing and competing, she says she has been able to give speeches on a broader range of subjects, sometimes even on topics she has never encountered before. 
"There will be some countries I know absolutely nothing about," Trivedi said. "[Two weeks ago] I got a topic on Yemen, and I was like 'I don't know if I can do a seven-minute speech on this.' But usually, what plays out in one country is pretty similar or influenced by what happens in regional neighboring countries. So I knew a lot more about Saudi Arabia, which has a lot to do with Yemen. I basically used that to give a different perspective on Yemen."
With such a diverse range of countries and topics covered in International Extemporaneous, Trivedi says she particularly appreciates the personal connections she can make with her speeches. For example, Latin America was the topic in the quarter-finals of her last tournament.
This year I'm taking AP Spanish, so as a part of learning about Hispanic culture, we learn a lot about Latin American countries," Trivedi said. "So I felt like I have some background on that, and to add some charisma to my speeches, I can always add some Spanish, which is always fun. On top of that, being the daughter of immigrants, it's always really cool to me to talk about where my family was originally from."