Tseng, Cheruvallath serve meals as cafeteria workers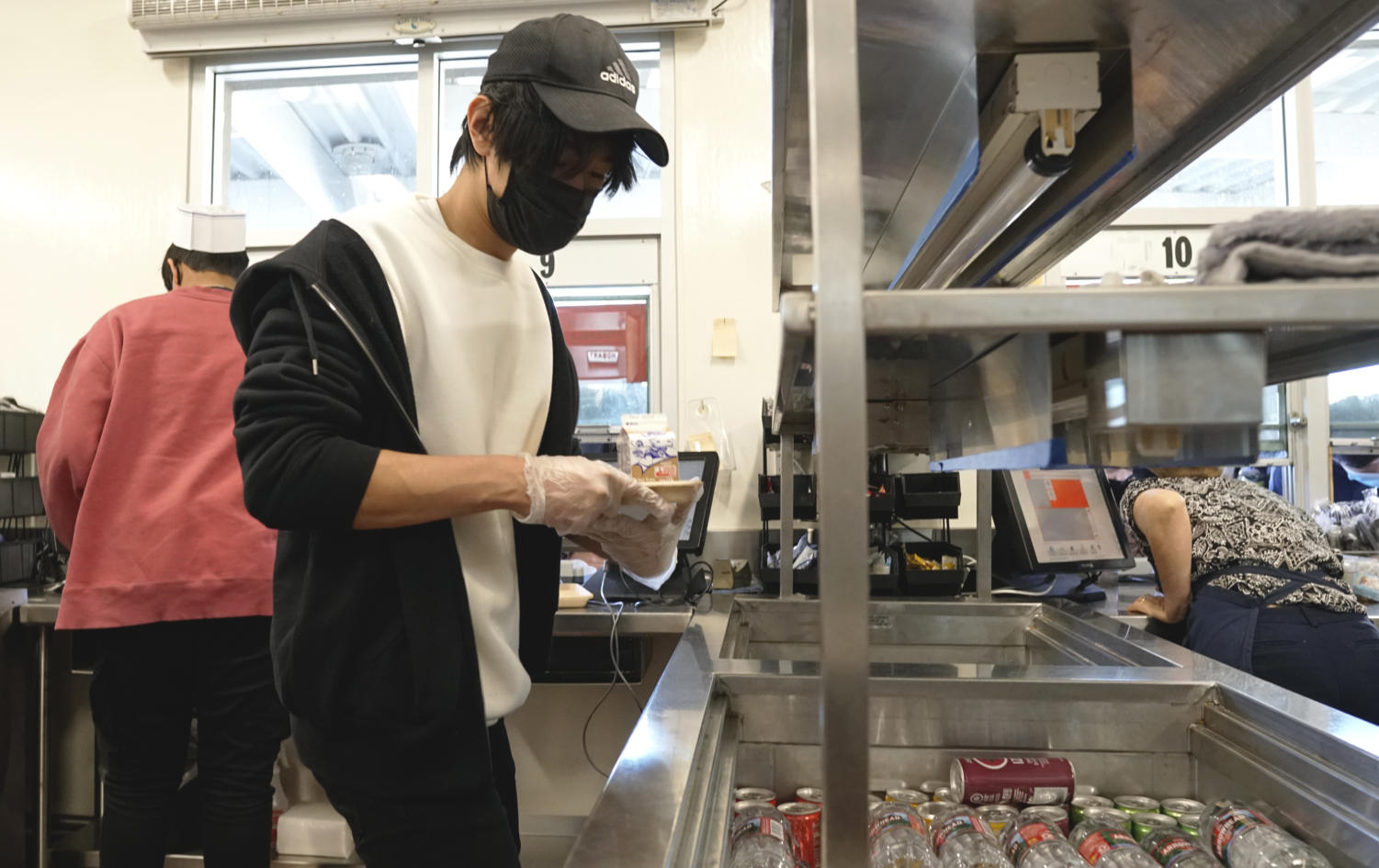 As Richard Tseng's (11) second period AP Computer Science Principles class was coming to an end, he quickly answered the last few questions on his test paper before dashing to the cafeteria. Unlike most students, however, Tseng wasn't rushing to the cafeteria to acquire a prepackaged meal, but rather to begin his shift as a part-time worker in Westview's Food and Nutrition department.
Tseng began working in the cafeteria in early December, after seeing a slide-show panel in Homeroom advertising part-time work opportunities. Shortly after, Tseng recruited his friend, Zubin Cheruvallath (11), to join him at his part-time job.
Tseng, Cheruvallath and other student workers typically spend 30 minutes a day working at the cafeteria stands, which can amount to an average of 2.5 hours of work in a full, five-day work week. On a regular work day, student workers man the cash registers and serve meals to fellow students. Several students also work at the smaller concession stands located in various parts of the school, where they sell goods not included in the free, government-mandated lunches.
At the beginning of the school year, concession stands were closed for service, but have since been re-opened in late December. Biglaryan said that the influx of student workers is what has allowed the cafeteria to reopen the concession stands. Cheruvallath said that one of the first lessons he learned with his job was the importance of time management.
"I typically get to the cafeteria about 10 minutes before lunch starts so that I can open my window without a rush," Cheruvallath said. "Once I get set up, I serve the people what they would like to have that day."
As a food and nutrition area super-visor for Poway Unified School District (PUSD), Flora Biglaryan oversees the distribution of school meals to Mesa Verde Middle School, Canyon View Elementary School, Willow Grove Elementary School, and several other schools in the vicinity.
"As far as I know, the food and nutrition department has always offered opportunities to high school students to not only earn some money, but to gain work experience and skills," Biglaryan said. "We offer unpaid work experience to [students in] lower grades as well."
The food and nutrition department currently has seven student workers employed in the cafeteria running designated stalls throughout the school, as well as several applicants on their waiting list.
However, in a typical school year prior to the pandemic, Biglaryan said that there are usually 15-25 students employed at various different times and on different days.
Biglaryan attributed the decreased number of student workers and applicants this year to the COVID-19 pandemic, which left many students unaware that the school offered work opportunities.
"Initially, we had some difficulty get-ting the word out to let the interested student know about employment opportunities," Biglaryan said. "However, thanks to the school administrators, some announcements during Homeroom brought in many applicants."
Cheruvallath immediately applied for the job after hearing about it from Tseng, and said that one of his favorite parts of the job thus far is how fast-paced it is.
"I chose to take on a job because I wanted some work experience and also being able to make extra money is always nice," Cheruvallath said. Aside from his desire to gain as much work experience as possible, Cheruvallath said that the convenience of working at Westview as opposed to having a part-time job at a separate establishment also played a large factor in motivating him to pursue employment at the cafeterias.
"There are plenty of other bonuses like not needing to go anywhere because the job is on campus," Cheruvallath said. "This way I still have time after school to do homework and study."
Biglaryan stated that she had similar work experiences while obtaining a higher education, and she recommends that students begin seeking job experiences early on in order to gain occupational skills.
"During my college years in Colorado, I worked in the dorm cafeteria," Biglaryan said. "I assisted in food preparations, served food, washed pots and pans, mopped floors and served Denver Broncos breakfast, lunch, and dinner during their camp season. When working, I learned time management and discipline, as well as social skills. Work, at any age, makes a person independent and self-reliant."
Tseng said that he hopes working at the cafeteria can help him establish a point of reference, which will be beneficial for his future employment endeavors.
"Working at our school cafeteria was my first step into the workforce, and I hope I can use my experience to find a job over the summer," Tseng said. "I've already learned so much in the short time I've had this job, like learning how to fill out a job application, tax papers, putting together a resume, and how to talk to people in a professional way, and I'm excited to see what else I can learn with this job."