Peng coaches girls basketball at Del Norte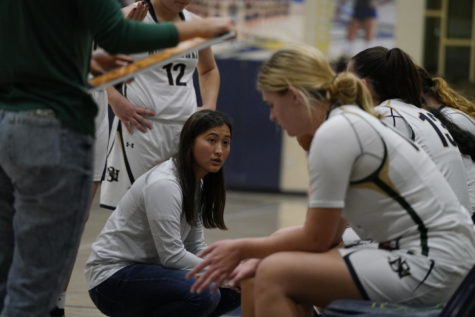 Melissa Peng hadn't expected to end up back in San Diego. Originally, she planned on staying in New York City to find a job after graduating from New York University.
"My original plan was to say in the city and work in one of the big four sports in the events industry, either in event coordination or planning," Peng said.
Similarly, she said that coaching basketball wasn't what she had in mind.
"Coaching high school basketball had not been in any initial plans," Peng said. "[But] after so many morning practices during the cold winters of NYC I was done with the cold. Being a So Cal kid, I decided to move back to San Diego."
Even after playing on the varsity team for four years and going on to play at NYU, Peng said that she gained more knowledge of the sport after beginning her job coaching girls' basketball at Del Norte.
"As a player you don't recognize the strategies and extra work that goes behind the scenes with your coaching staff," Peng said. "I've learned a ton about how to approach certain games, situations and practices over the last year."
Her main goal as a coach is to teach her players how to have a fun experience playing basketball, while also facilitating their understanding of important skills and knowledge about the sport.
"[I want] our team to compete at our highest level and consistently give everything while keeping it fun," she said.
According to Peng, playing basketball in high school and college taught her how balance her schedule. She said it was necessary for her to maintain her academics and extracurriculars to continue playing her sport.
"As a student-athlete, if you don't have the grades, you don't get to play," Peng said. "Going to a prestigious university like NYU, you always had to balance practices, games, academics, weight lifting, homework, sleep and of course, meals. If at any point something slacked, you could miss minutes on the court or your grades would fall."
When Peng played at Westview, the team won the CIF championship and placed 8th in state. According to her, it was a fulfilling experience that helped her prepare to play at the collegiate level. Peng said her team at Westview had a goal of winning the competition, and she valued that each player worked together towards reaching this goal.
During high school, Peng said she did not think a lot about college. Although she wanted to attend a prestigious school to play basketball, she was not overly focused on academics. According to Peng, her path after finishing school was not well-planned. She focused more on finding a college and being accepted rather than the steps she would take after.
"When you are 18, all you see is the next step, which is college and preparing for the next chapter of your life," Peng said.
Even though she was unable to see it in the beginning, this mindset is what made coaching the right choice for her. According to Peng, she turned to coaching basketball because she wanted to give back and share what she had learned while playing as a student.
Even though coaching was not her original plan for her path following college, Peng said she enjoys coaching at Del Norte and giving her players an experience they can look back on later in life.
"I am blessed to be surrounded by a bunch of players who want to compete and learn," Peng said. "Life is about experiences. You truly are never prepared for what's down the road."