Mumby finds new path in law
As a freshman at UC Berkeley, Wil Mumby changed majors. Unsure about his current major in media studies and how it might not support his career interest in journalism, Mumby participated in a journalism seminar during his freshman year of college. That was the start of Mumby's decision to switch majors and pursue another passion he had in high school.
"I was planning to do some form of journalism, but over time, I had a journalism professor convince me to switch majors," Mumby said. "I was thinking of doing more general journalism when I was in high school and moving onto college, but over time I became more interested in the environmental issues and writing about those, and that kind of evolved into wanting to do environmental policy and law, hence law school."
Mumby graduated from UC Berkeley in 2013 with a degree in environmental science and a law degree from UC Berkeley Law in 2018.
Mumby didn't have a lot of concrete experience in the court system during his college experience. Working as a legal assistant at a law firm for a couple of years after college, gave Mumby a feel of what working in the legal profession is like. He liked it enough that he applied for law school and got in at Berkeley Law. There, Mumby was able to gain many opportunities to intern at big environmental organizations such as the Department of Justices and the Natural Resources Defense Council, etc. He was very interested in experiencing different facets of the environmental law world, as well as working for different employers in order to understand all the possibilities that were available to him.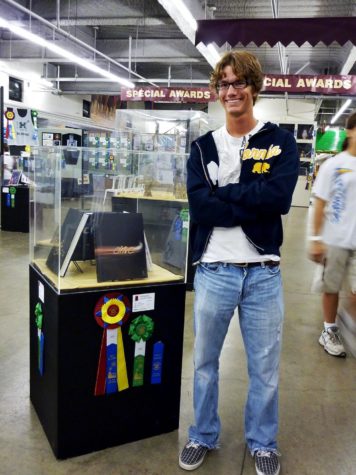 Previously in high school, Mumby was on the Currents yearbook staff. He said his experience at Westview was very influenced by his teachers and his peers.
"I think there's a strong commitment to educational rigor," he said. "I had a lot of support from the people around me. I think that Westview had a very good positive culture and I think the various activities and extracurriculars really gave the opportunity to build community and to collaborate with people. I really valued my time on the yearbook staff." 
He said his experience interviewing people and writing about them for the Westview yearbook, and writing as a creative outlet to improve his skills while putting a spotlight on the experiences of his classmates made him very interested in journalism. Mumby had expected to pursue his career in journalism after high school but making the early decision as to what he wanted to do in high school blinded him from opportunities relating to his other interests and passions, such as environmental science. 
"I knew that I was very interested in environmental issues," Mumby said. "I had become very passionate about climate change and wanted to promote clean energy. I took an AP Environmental Science class in high school, which gave me some exposure to that world and so it was really exciting for me to go out and study a lot of the problems in the world and try to find solutions for them."
Soon after graduating from Berkeley Law, Mumby worked as a clerk at the San Francisco Superior Court in their Law and Motion Department for Judge Harold Kahn and Judge Ethan Schulman. Mumby then went on to work at Adams Broadwell in San Francisco, which led him to where he works now at Kaplan Kirsch & Rockwell to pursue broader opportunities as an environmental lawyer. He said he wanted to work somewhere that made him feel like he's making a strong impact.
"A lot of work that my current employer does is promoting clean energy and green infrastructure and more conservation type work on public lands, protecting sensitive natural resources, and advocacy for pollution controls," Mumby said. "A lot of our clients at this firm are from Native American tribes and we do work for them promoting their tribal sovereignty and help with economical development and things like that. So just a good public interest, social justice-oriented firm that really speaks to the values that I set out to pursue." 
Mumby said that in spite of external pressures, students should look beyond their worrying and just do whatever they hope to accomplish.
"If you're excited by a subject, or think that something could be valuable to you either educational[ly] or if you think it'll teach something useful to you in the career you choose to pursue later on, then just do it."