Through life experiences and literature, Bozoukov learns to love the uncertainties of of tomorrow
Amy Wang, Editor-in-Chief
December 17, 2021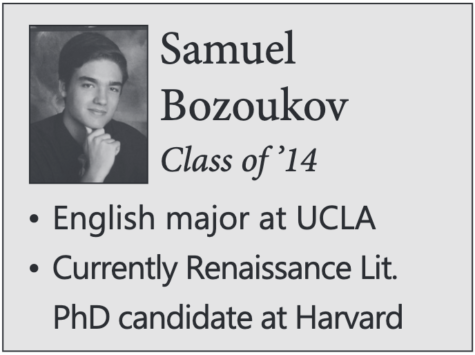 Sam Bozoukov has put down roots all over the map. From San Diego to Los Angeles to South Korea, he has covered miles and miles of experience, learning and growing with each new location. And yet, home has always been something that he holds within him.
"I consider all the places I've been bits of my home I carry with me, and in carrying them I feel like I can transport myself to those places at whim, in heart, whenever I want," Bozoukov said. "I have left bits of myself in the places I've been. The people I've met, as well as the spaces we were in, gifted me with bits of themselves here with me now and wherever I am."
In this way, Bozoukov has been able to adapt to whatever comes next, no matter where he finds himself. 
San Diego, California
Even now, 7 years after Bozoukov graduated, he still has vivid memories of the streets that he grew up on, the way they twinkled with Christmas lights. From his apartment in Cambridge, he can close his eyes and see Westview's plaza and the palm fronds as they swayed, soaked in waves of music that seemed to waft through the air.  
"I can almost taste it now: pico de Gallo, sour cream, and freshly fried fries," Bozoukov said. "Topped off with good company and milky Horchata. I really can't get enough of sizzling Mexican food in the warm sun."
To Bozoukov, San Diego will always be Eden San Diego is the place where he first discovered Milton's "Paradise Lost", the book that propelled his love for learning. San Diego is a bower of innocence, a dream of his youth and all that came with it.
"Everything just feels paradisiacal in San Diego," he said. "And while it isn't quite a paradise lost, my nostalgia, as it means in its very etymology, is a pain of coming home."
San Diego is the place where he found the balance to explore his interests. In elementary school, he realized that he had a penchant for listening — he eavesdropped on his parents' conversations, sat raptly before the radio, and absorbed the Bible stories he heard at Sunday school. As he grew older, he began to appreciate literature as an act of listening through reading. 
Despite having more of an inclination towards science and math, Bozoukov was mesmerized by the energy of his English teacher, Jeff Wenger, who was so enthusiastic about the discussion that they were having about Of Mice and Men that he stood on a table. In freshman Honors English, Bozoukov found a new world, one in which every conflict had a resolution. 
"[In conflict-resolution plots a] lot of steps will be missteps," Bozoukov said. "But then a realization dawns in the least anticipated place: that merely trying to resolve one's complication is enough of a resolution, that what he or she was doing all along was enough, that the resolution was never something external—but something internal."
This lesson—one that made sense both in real life and on paper—that merely trying could be good enough in many cases, was something that stayed with him.
"I think the process of identifying a complication, and working to resolve that as best as I can, is like a deepening spiral in which I understand myself more with each thing that I overcome or face down," Bozoukov said. "That way I can gain a deeper feeling for myself and the universe around me."
A specific conflict that Bozoukov faced early in high school was one that pertained to the direction that he wanted to take his love of writing in. After freshman year, Bozoukov joined The Nexus, and eventually became editor-in-chief. During this time, he wrote a feature that included details of a student's personal struggle, which he was very proud of. 
"It ended up being one of my better articles," Bozoukov said. "But the subject of the article actually came back and told me that he didn't really want the article in the newspaper." 
After a tough conversation, Bozoukov came to realize that the gritty, humanistic aspects of journalism were something that was more visceral than he wanted to take on. It was easier, Bozoukov said, to dissect the languages of dead poets. 
This moment was one that influenced his choice to study English at UCLA, despite the disapproval of his parents, who wanted him to pursue a more lucrative field.
"Obviously, they wanted me to be something like a lawyer or a doctor," Bozoukov said. "I felt a little bit like a rebel without a cause taking up English, but it was really just the thing I loved and enjoyed the most."
Los Angeles, California
Shimmering heat waves and the rumble of traffic, the red brick of libraries and classroom buildings sweltered under the eyes of the sun—the next chapter of Bozoukov's story opened in Los Angeles. 
"Los Angeles as a whole to me is like a faded billboard, where the hype of the city outshines its true nature," Bozoukov said.
It was a place of growth and decay—while UCLA's campus was breathtaking, he said, there were also aspects about his life that he had trouble adjusting to. For one, at the beginning of his college life, he was pursuing a dual focus of economics and English, though only the latter was his true interest. 
It was at UCLA that he realized the flexibility that came with studying the humanities. While he had always held his love for literature close to his heart, being in college, surrounded by like-minded peers was what opened his eyes to what he could really do. He was surprised at how many opportunities there were for people who opted for a less STEM-oriented major.
"I think once you get into college, with a little bit of research, you can find that a lot of corporations need writers and creative thinkers and people to proofread," Bozoukov said. "[The number of jobs for humanities majors is]  just not as visible."
With more confidence because of his new understanding of the job opportunities available to him, Bozoukov expanded the scope of his interest in literature. In an attempt to delve deeper into his love of writing, he found his voice as a poet. He wrote his first poem in a sophomore year class, and eventually spent his free time on the endeavor. In the dusty classroom, for the first time, he was introduced to mediums of literature that he had never tried his own hand at before. 
"There are so many things I can say about what I've learned through literature," Bozoukov said. "But the most important thing I've learned is that there is hardly ever one way in doing things, that life is polyphonic rather than monotone."
This idea of polyphony of experience seeped into other parts of his college life, beyond the academic. In Gardena, he was introduced to Korean BBQ for the first time. In Westwood, he made friends who made his college life magical.
"In general, going to parties at Westwood was a lot of fun," Bozoukov said. "I loved the excitement and people-watching."
Ultimately, it was these relationships that helped Bozoukov move onto the next step in his life, after he graduated in 2016. 
Hongcheon, South Korea
After college, Bozoukov decided to teach in Korea, drawn to the possibility of exploring his options before he committed to a desk job. After hearing of an opportunity with TaLK, an English-teaching program, from college friends, he applied to be a scholar and was accepted. As a fresh-faced graduate, he brimmed with youthful ambition, having sketched out an idea of what literary fame might be like, should he succeed at writing. He was determined to spend his time in Korea like a hermit, pounding out a masterpiece. 
Once there, he found mountains blanketed with foliage. In the fall, they turned all shades of orange and yellow, eclipsing the horizon with the creep of Autumn. The people, as well, factored into his positive experience.
"Koreans are very giving and trust that they will be blessed in return," Bozoukov said. "The parents of the students took me out to eat a lot. It was a joy to struggle trying to understand each other in our broken ways of speaking the other's language. It was an easy way to empathize on a level deeper than language."
As a part of his teaching position, Bozoukov found himself enveloped in a completely different culture, one that welcomed him.
"The ajushis got a real kick out of seeing foreigners after a few rounds of soju," Bozoukov said. "They would always invite me over to their tables for a shot or for sharing some food."
Scenery and good company, however, wasn't the only beautiful thing that he found.
"The funny thing about five- or 10-year plans is that by the end of them, you'll often be in a completely different place than you envisioned, but you'll want and root for your past self to make the decisions that you did make, because it was the way for you to end up where you are now," Bozoukov said. "So in a way, going to Korea was absolutely the right choice, but not for the reasons I imagined."
Despite all his meticulous planning and higher aspirations, Bozoukov left Korea not with a finished manuscript, but with a wife. Instead of finishing his novel and aspiring for critical success, he found love, and a more steady appreciation of the work that he could do.
"This is just to say that I like the path I'm on more now when I'm not pursuing trying to be famous at writing, but just trying to be the best I can be at it," Bozoukov said.
In more ways than one, his time in Korea helped him realize what really brought him fulfillment. His marriage, Bozoukov said, has been the thing that he has found the most comforting throughout the pandemic, part of which they spent quarantined in Thailand because they had honeymooned there when COVID-19 hit.
"No person is the solution to one's problems, but a partner can be the most invaluable support and love you can ever have," Bozoukov said. "In looking in their eyes, you see what you can't see for yourself, and your person can do the same for his or her self, and that is the genesis of self-completion."
Cambridge, Massachusetts
In the U.S. again, with his wife Joo by his side, Bozoukov pursued academic aspirations. He applied to various Ph.D. programs across the US, hoping to be able to pursue the knowledge he craved. Ultimately, he was accepted to Harvard.
Although he'd long been an admirer of English poet John Milton since first hearing the name in high school, it was earlier in this year that he decided to focus on Renaissance Literature.
"I chose [the subject] because even though I hate it most of the time, after reading a piece John Milton wrote about how learning is happier than ignorance in my second year of college, I was sucked in by the idea of how happy learning made me," Bozoukov said 
The road has been rocky, at times. Grief has come in various forms and sizes, as shadows skulking in the dark, or in clear daylight. At times, he has doubted the path that he is on, wondering if a more financially viable career, like his parents had suggested, might have been a better choice.
"In the last year, I don't know how many times I've joked with my wife about how I should have pursued a more lucrative career, and meant it deep down," Bozukov said.
One disappointment, in particular, was not passing a major test earlier this year, an exam with three professors in which he was supposed to discuss literature from the Middle Ages to the present. Distracted by the news of his wife's pregnancy, he blanked out during the C. And yet from the ashes of this failure, rose motivation.
"It turned out that failing the test was the answer for me," Bozoukov said. "It inspired me and gave me new motivation for not only passing the test next year, but to be the very best scholar I could be I became determined to give it my all, and it started with memorizing poems, which not only helped me but also made learning really fun again."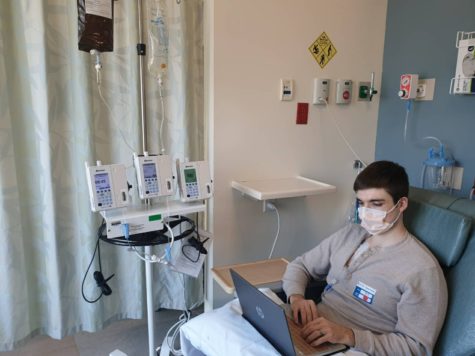 Another recent challenge came with the diagnosis that he has stage four Hodgkin's lymphoma. While the diagnosis has been hard on Bozoukov, because it has been painful to see his loved ones so worried for him, it has also helped him find certainty in his future aspirations.
"The diagnosis is probably the biggest personal challenge of my life because I had to face my own mortality for the first time in a serious way," Bozoukov said. "But in a similar vein, it's made me fall in love with life more, not less. Cancer has only shown me how little I've lived and learned; thankfully, literature and life are, together, a mellifluous, righteous song that I'd like to spend more time hearing."
These days, what Bozoukov most looks forward to is the unknown. With his expecting wife by his side in Cambridge, Massachusetts, the breadth of how much sound, sight, taste, and touch that he has yet to experience and understand is simultaneously what he fears and   what he most anticipates.
"There's a saying that the most valuable part of a library is not the .001 percent of books you've read, but the 99.999 percent you haven't," Bozoukov said. "It's not a contradiction to say that I most look forward to what I most fear because I've witnessed it in myself and in others: facing your fears head-on, realizing that they are scaffolds we build to hide our insecurities, is precisely how we can become more secure in ourselves."
And so he walks onwards. Into the face of all that he is worried about, holding onto the pieces of the homes he has made for himself over the years. Ready for whatever comes next.