Sandstrom returns as XC coach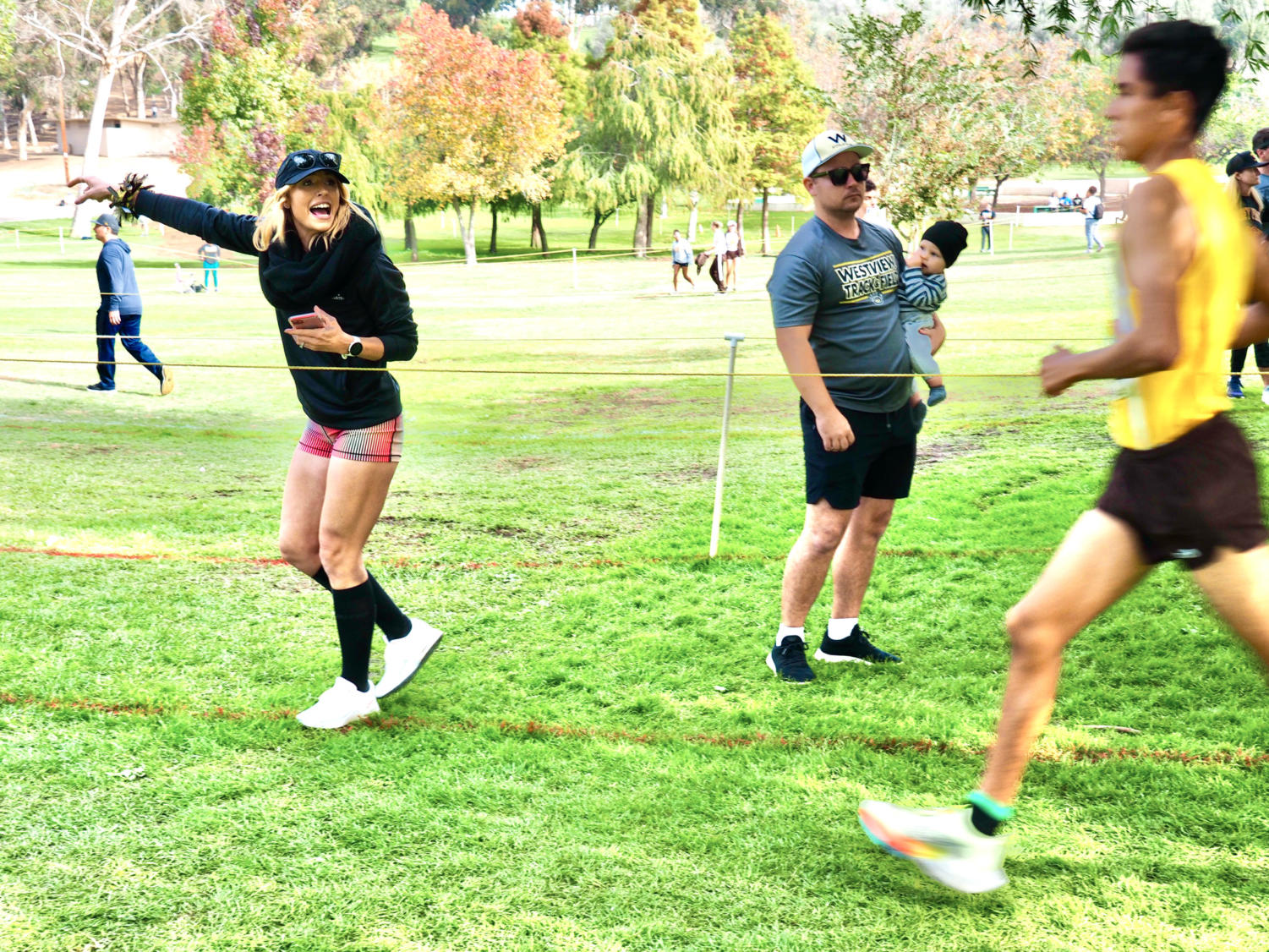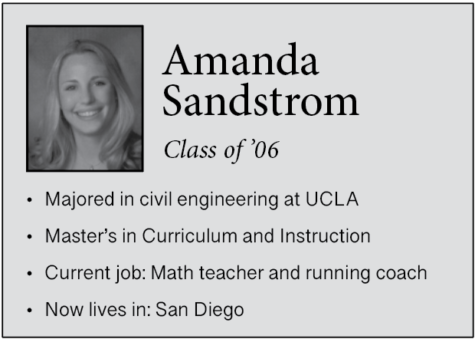 Cross country coach Amanda (Trujillo) Sandstrom stood behind the start line of the CIF course at Morley Field on Nov. 20, and gathered her team into a huddle for some final words of encouragement. Sandstrom has now stood in this CIF huddle 10 times: four as a Westview student-athlete, and six as a coach. After the starting gun fired last month, she cheered on her athletes as they took on what, for most of them, was the final race of their season. 
"It's exciting to see athletes race the same courses I did in high school," Sandstrom said. "Some have changed [the CIF course at Morley Field is slightly different], while others are exactly the same. What has changed is how fast the athlete's times are. My times in high school that got me a medal or even won me a race would not stack up to the times in 2021."
Sandstrom began running competitively in middle school with Mesa Verde's after school running program. Once she got to Westview, her love for the sport bloomed, and she was a member of the varsity track and cross country teams for all four of her years on campus.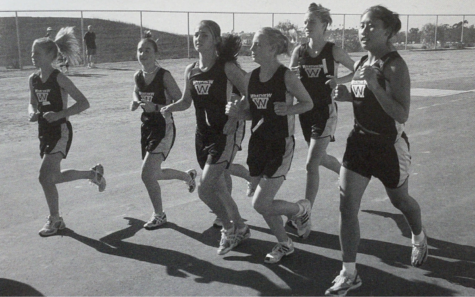 She was a part of the first freshman class to attend Westview, the class of 2006, and has returned to her alma mater as a coach and teacher.
In Westview's first year, it was a tight-knit campus of about 800 students. 
According to Sandstrom, the size of the school, along with the unparalleled experience of being at the school from its genesis, resulted in strong friendships forming amongst students in the classes of 2005 and 2006.
"In terms of the people who started Westview, [they] seem to just form this much closer bond than any other people that I've seen before," Sandstrom said. "My best friends are all my high school friends, and I still communicate on a daily basis with anywhere from 10 to 20 people who went to Westview with me. Talking to other people who didn't go to Westview, [they] think it's really weird."
According to Sandstrom, one thing that made the experience of opening Westview unique was that she and her classmates got to mold the culture of the school. As an early Westview student, Sandstrom witnessed the beginnings of beloved school staples, like wearing specific colors to football games. 
"We very much got to start traditions," Sandstrom said. "We got to be a part of something really cool. I feel like we had a very unique high school experience compared to anybody else."
Along with setting the stage for future Westview students in a more general sense, Sandstrom says that she and her teammates were able to take part in the beginnings of many beloved cross country traditions, like making black and gold hair ties before CIF races and attending pre-race, carbo-loading pasta parties. 
Much like the school as a whole, the team was small and closely bonded.
"I've got a few friends from the cross country team that [I] still see on a regular basis," Sandstrom said. "We were a friend group. I had my other friends, but we would also do stuff as a team outside, very much like what [this year's team] does right now."
The Westview girls cross country team won CIF in fall of 2004 and qualified for the state competition. 
For Sandstrom, this, along with the long-lasting friendships that she made on the team, were the highlights of her high school running career. 
Once she graduated from Westview, Sandstrom went on to major in civil engineering at UCLA. She pursued civil engineering for a few years post-college, all the while continuing to run recreationally, but not as frequently as she would have liked to. In the summer of 2015, Sandstrom landed the position of head cross country coach at Westview. During her first two years as a coach, the girl's team won CIF twice.
"Taking the coaching job at Westview was simply a spur of the moment decision to allow me to rediscover my passion for running while figuring out what I wanted to do next career wise," Sandstrom said. "It ended up being the best decision for me as it led me to realize how much I enjoyed coaching [and] teaching high school students and having an impact on their lives."
According to Sandstrom, her coaching style has been influenced by her experience as a runner. 
"Some coaches are very regimented, [and think] that [athletes need to] knock [specific] paces off all the time," Sandstrom said. "When [the team] goes out for [sprint intervals], it's, 'here's exactly what you're doing. If you don't do it, shame on you.' And I understand that as a high school athlete and not a professional athlete, [the runners] have good days and bad days. And there's days where [they] forget to eat, and [they're] not feeling it, and stuff happens. I feel like my coaching style is very much based on how an athlete feels and if the athlete is putting forth their best effort, even if it doesn't look like it's their best effort, I'm happy with that."
By spring 2019, Sandstrom was both coaching and student-teaching at Westview. That fall, she officially became a teacher. Sandstrom currently teaches Integrated Math III and AP Computer Science Principles. In past years, she has taught AP Calculus AB, but is currently taking a break after the birth of her son in February of 2021. 
Having experienced Westview's rigorous academics first-hand, Sandstrom says that she is able to empathize with the stresses that her students face. 
"I understand what it's like to go through academically rigorous classes and feel the pressure of 'not only do I have to do well in school, but I need to be involved in every club imaginable,'" Sandstrom said. "And 'I need to be involved in sports and extracurriculars.' And 'I need to have a job and I need to do everything so that I look good on my college application.' I understand that. And I think that helps." 
Sandstrom's time as a coach influenced her to pursue teaching at Westview. 
For Sandstrom, being a part of the process that made her who she is today is very rewarding, and she enjoys watching her athletes and students form the relationships that were so important to her in high school. Despite not originally planning to go into teaching, she says that she has found her place within the comfort of her old school. 
"I thought I wanted to go into engineering," Sandstrom said. "And then I started coaching. So it was working with high school students coaching that made me realize how much I enjoy [working with them]. And I wanted to take that to teaching because I like teaching the content, but I also like high-schoolers and helping mold you guys into young adults and teaching you life lessons." 
Her decision to coach has allowed Sandstrom the opportunity to encourage her athletes while they discover the joys of running, as well as continue the sport herself. She now competes in half marathons regularly.
"Cross Country at Westview has renewed my love of running and I feel like I am in better shape than I was in high school," Sandstrom said.