Ressler founds Jaybird Kombucha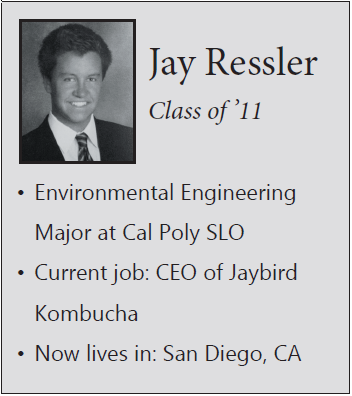 On a bustling Friday night at Jaybird, patrons laugh and chat as they sip cold glasses of hard kombucha. Jay Ressler mans the bar, deftly pouring the colorful drinks into glasses without spilling a drop. Ressler, founder and CEO of the newly-opened Jaybird Kombucha, hadn't expected to find himself at the head of a hard kombucha business.
After high school, Ressler intended to find a career in an environmental field. He attended Cal Poly SLO for Environmental Management & Protection before switching to Environmental Engineering.
After receiving his Bachelor's degree, Ressler worked as an environmental mediation intern at Northrop Grumman, where his job entailed resolving environmental issues in commercial disputes. This eventually led to a full-time job. In late 2017, however, Ressler lost interest in the company.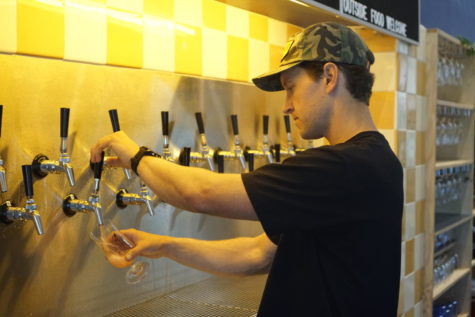 "I started to be less excited about a mix of things, like what they were doing and its culture," Ressler said. "I was like, 'I'm gonna give myself a year and save up as much cash as I can, and then I'll quit.'"
Since high school, Ressler had a desire to work for himself. In college, he picked up craft beer brewing with the intention of one day starting his own brewery.
"I always had the idea of 'this could turn into a business," he said. "So let's give it my best shot—if it ends up being good enough to the point where I think I could start a business, then I'll start a business out of it."
However, Ressler soon realized the difficulty of breaking into the industry. The craft beer industry had already peaked, he said, and was firmly consolidated.
Ressler quickly found a new promising enterprise: hard kombucha."In 2016, Beechcraft opened as the first hard kombucha company in San Diego," Ressler said. "I immediately saw the potential in the business and category. It's a craft beverage that fits within the health-conscious wave that was happening."
Kombucha is a fermented beverage made from green or black tea. The brewing process is simple: brew tea, add sugar, then ferment it with a SCOBY (symbiotic culture of bacteria and yeast).
Hard kombucha, an alcoholic variation of kombucha, requires additional sugar and yeast, like brewer's yeast or mead yeast. Based on the type of yeast, the alcohol by volume (ABV) of the kombucha varies. Ressler's hard kombucha beginnings were relatively humble. His brewing began in one single-gallon glass jar, then five; then two five-gallon carboys, then 16.
He began to devote countless hours to building a business model and perfecting his hard kombucha recipe, despite his ongoing full-time job at Northrop Grumman."On the days when I had work, I would usually wake up in the morning, go to the gym, go to work, come home, and try to spend an hour or an hour and a half working on the business plan, or the branding, or anything like that," Ressler said.On the Friday that he had off every other week, Ressler dedicated his entire day to brewing, adjusting his brewing process with multiple batches and experimenting with flavor combinations.
Ressler was producing so much kombucha during this time that he had to find creative ways to ensure that his excessive quantities of kombucha didn't go to waste.
"I got to the point where I had a triple tap Kegerator in my house. Anytime friends would come over my offer would be the hard kombucha that was on tap in my house instead of beer," Ressler said. "I also sold a little bit just to recover some of the expenses so I could continue to brew."
As time passed, Ressler's efforts paid off.
"I was really dedicated to mastering the product," Ressler said. "The first couple batches I had, I dumped out because they were not drinkable; they were terrible. Then, over the course of a year, it not only was better than my beginning batches, but the best in the market. That's when I was like, 'This is it; I have a product and the timing is right to enter the market.'"
Soon after quitting his job in 2019, Ressler reconnected with Luke Syka (Westview class of 2010), a recent Columbia University graduate with a Master's in engineering.
"I was looking for a business partner because I knew that what I wanted to achieve, I wasn't going to be able to achieve myself," Ressler said. "[Syka] was telling me about his experience at Columbia and all the things that he learned and his interest in potentially starting a business, and so he came on [as the acting CFO of Jaybird]."
Despite this small victory in the company's infancy stages, building a small business from the ground up didn't come without its fair share of challenges.
"One of the first and biggest challenges that I faced was trying to communicate a vision; I have a storm of ideas but I have to communicate it to the people who create the logo, the people who create the package design for the cans, the people who run the social media," Ressler said. "It's like having a dream and waking up and trying to tell your mom or your brother, 'I had this dream, it was crazy,' but it doesn't really make sense when you're saying it, because you can't really put words to it."
Additionally, Ressler encountered another problem that he hadn't expected: earning money.
"I really underestimated fundraising," Ressler said. "I thought, 'Alright, I've got three years of brewing under my belt; I've got the best hard kombucha product out there; I've got a business plan; I'm just gonna go out and raise capital. We'll get a million dollars, and then we'll start a brewery.' It wasn't that easy."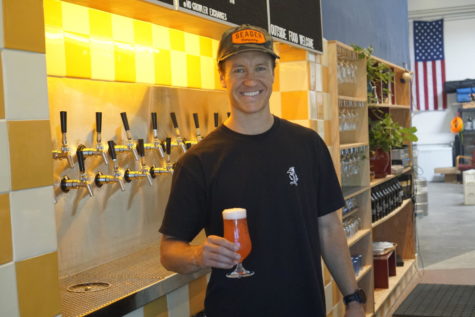 Given that Ressler didn't already have a solid base of funding to build his business with, he was forced into other options. He and Syka rented rooms in the Encinitas library to pitch to their friends and family members, trying to convince them to invest in Jaybird. Eventually, Ressler was able to secure enough capital to open the brewery. However, even the process of finding a brewery was met with its own challenges.
"We were in the middle of a negotiation for a brewery up in Oceanside, so after my lease ended, I moved there from Solana Beach," Ressler said. "Four days after I moved to Oceanside, COVID-quarantine went down."
In light of this, Ressler and Syka thought it best to delay their brewery's opening. The pandemic had interfered with their original plans, but the time allowed them to grow. The two then spent the following year scouting potential plots of land and evaluating the state of the hard kombucha industry. Finally, on May 1 of this year, Ressler and Syka moved into their facilities in Camino Santa Fe. A few months later, on Sept. 11, Jaybird Kombucha officially opened its doors to the public.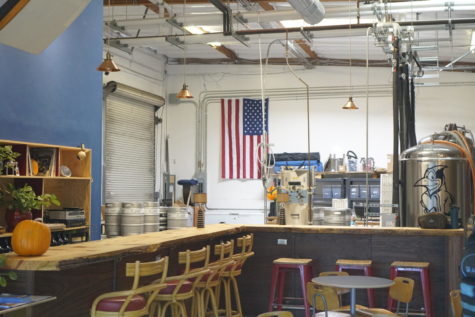 Today, Jaybird serves an average of 30 customers a day. As a young-start-up owner, Ressler is required to fulfill a variety of roles throughout the business. His 13-hour days include brewing, cleaning, sourcing investment and sales leads, administrative paperwork, and paying invoices. Ressler's also constantly looking for ways to further Jaybird's branding.
"Within the next six months or so we want to get into cans," Ressler said. "We just started on-premise distribution, which is distribution in places where you consume the product on premise like restaurants and bars."
Looking back, Ressler fondly reminisces about the progression from his high school 17-year-old self to the person he's become today.
"It's funny to think about how little I knew and how naive I was [in high school]," Ressler said. "I didn't realize how much responsibility there was in life. In stuff like starting a business, going to grad school, becoming a doctor, or getting married, there's always gonna be more and more responsibility with each phase of life. But, I've had a great time."