Cormier writes her own narrative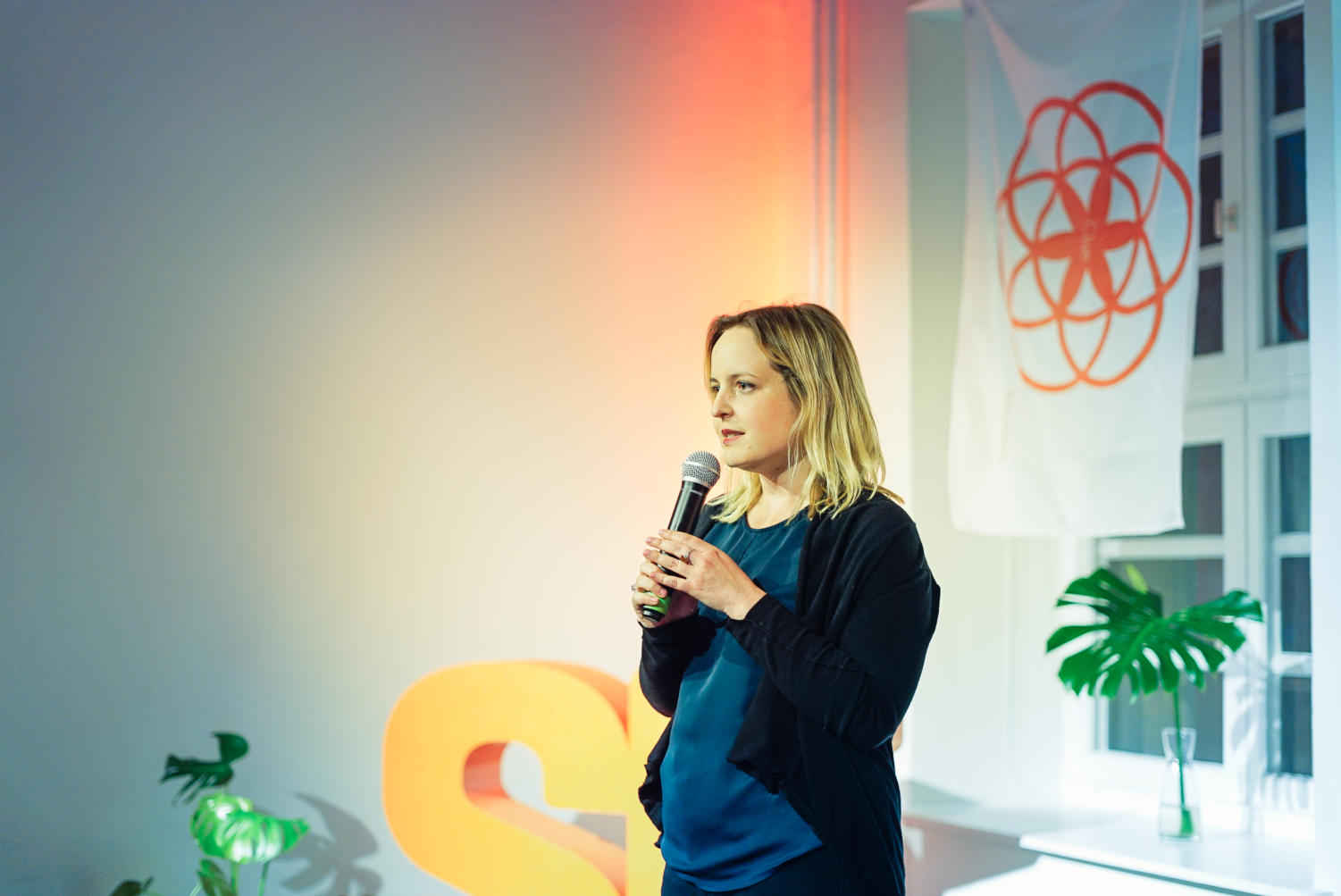 Cormier speaks to a crowd during a clue event. Working for a Women's health app allows Cormier to take her journalism skills into a field she felt passionately about.
It's 2006 in Denver, Colorado, The annual National Scholastic Press Association (NSPA) Convention was fully underway. The Nexus staff anxiously await the countdown for the top ten student newspapers in the country. It was only the fifth year that Westview had been open and the Nexans were still trying to solidify their place in the journalism community. A top spot at this convention would do just that. Sports Editor Amanda Cormier, a junior at the time, remembers how hopeful they were for this win.
"We took ourselves so seriously," Cormier said last month. "We were really hoping to win Best of Show. I remember I was such close friends with everyone on the staff and we all worked really hard. We were always kind of comparing ourselves to other schools because we were so new, so I think everyone at that time sort of had this need to prove ourselves as being a great school, especially as being a great paper." 
The countdown began. The tenth school was called out. It wasn't Westview. The ninth. Not them. Eighth. Still nothing. It gets down to the top three. They are still in the running. When The Nexus was announced as the first-place winner, the students went wild. "I remember so vividly, screaming and yelling when we won," Cormier said. "Afterwards we were all hanging out in the hotel rooms and we played 'We are the champions' and made silly little videos. We just felt so triumphant, like we'd really earned it. I remember just feeling pure happiness that we'd done something that meant so much to us."
This win helped spark a feeling of pride in Cormier, something she said she struggled to embrace. She said she finally felt heard, seen and validated.
"It made what we were doing seem important, just beyond Westview," Cormier said. "It was the first time where I think I realized that what we were doing was real journalism, that we could actually continue to do what we were doing after high school, maybe even after college. Having validation from other people, from adults, was super cool for me, and for all of us, I think, and gave all of us a boost of confidence about what we could achieve."
Cormier now says her experience in The Nexus and the mentorship she received from newspaper adviser Jeff Wenger was pivotal to building her self-confidence and giving her something to be passionate about—things she lacked coming into high school as a ninth-grader.
"When I was a freshman at Westview, I wasn't an achiever," Cormeir said. "I wasn't thinking about going to the best schools because I didn't really have the confidence to believe that I could get into these schools. I just wanted to get in wherever I could get in and afford. What Wenger did is he encouraged my confidence.  What a passion can do is it can make you confident, and I didn't have that. Most high-schoolers don't. If you can find a passion, it will actually give you the confidence to aim high." 
This confidence combined with encouragement from Wenger allowed her to push herself outside of her comfort zone, to be proud of her skills and talents as a writer. 
"Wenger encouraged me to apply to [the Princeton Summer Journalism Program],  I did, got in and it changed my life," Cormier said. "The program told me to apply to top schools and it changed my whole [life] trajectory. I just needed a little bit of a push to be confident."
 As a senior in high school, Cormier served as the Editor-in-Chief of The Nexus, winning another Best of Show award at the 2007 NSPA convention held in Philadelphia. She then went on to attend Columbia University as an english major and later to work as a reporter for The New Yorker. She quickly advanced the ranks and soon reached a high ranking editorial position at the publication. 
But this position lacked the creative edge that she desired and she soon tired of her work. It was all administrating, editing and delegating. She just wasn't writing anymore. 
This coincided with another troubling time in her life—the 2016 presidential election.
"After Trump was elected, I was feeling really disillusioned about journalism," Cormier said. "I [felt] like, people [didn't] read magazines anymore. I [began] wondering, how can you get good information to people? How can you use fact checking, evidence, reporting and all these skills that I think are so important, but give people information in new ways?"
This led Cormier to pursue content marketing, a way for companies to connect with their customers through providing relevant and useful information. Cormier sought out Clue, a woman's health app, as her first job in this field. [add transition] 
Although Comier had gained some confidence as a writer, she would still second guess her decisions and writing. But she realized she needed to just go for it. She pitched herself to the company as a seasoned writer explaining why they should invest in a content marketer and why she was the perfect choice for them. 
"I emailed the founder of Clue and I basically just shot my shot," Cormier said. "I said to her, I want you to hire me, I think your brand is amazing. Here's what I want to do for you, you need to produce amazing content on your website, and you need to produce a lot of it, and I can help you do that. And I wasn't expecting to get a response. She emailed me back, saying she liked the idea I brought up. We built this website where we published fact-checked, evidence-based articles about women's health. The goal was basically anytime a woman Googles stuff that's really personal that Clue would have an article [for them]." 
Being a part of Clue's team meant Cormier had to take residence in Berlin in order to be close to the office and be in the same time zone as her coworkers. Cormeir says this was definitely a shock, but she was passionate enough about the work to make the move.  
Although this was a slightly different career path than what she pursued initially with The New Yorker, she knew the skills she accrued would still be extremely helpful. 
"Technically, it's called content marketing, but really it's journalism," Cormier said. "It's getting people good information and being of service to them. It actually succeeded beyond what I even thought it would and by the time I left, we were getting 4 million visitors to the website every month just coming in from Google."
After leaving Clue, Cormier went into freelance writing.  Her laptop became her office and her staff downsized to a single individual, herself. She began hopping from startup to startup doing content marketing. At the same time, however, she found herself returning to the journalistic roots she had come from. It had been a while since she had written a true newspaper article, but an idea was beginning to form for a potential story, despite some initial doubt.
"I hadn't written something for a long time, but I had an idea that I thought was good," Cormier said. "I had this idea to write a story about bras that are made in Poland because there's, like, this cult online about Polish bras, they're the best in the world, according to Reddit. [So] I wrote a pitch about them not really thinking too much about it [but] I think that's why it ended up so good. I pitched the New York Times the story [thinking] they wouldn't respond. This is another situation where I just sort of sent something out not thinking anything would happen."
The story ran on Dec. 25, 2019, gifting Cormier the journalist's dream—a byline in the New York Times.
"It was like another confidence-building moment," Cormier said. "I'm always super hard on myself, and it was a moment where I was like 'okay, I can do this. I can still write.' I've realized through that experience and the experience of pitching to Clue that the best work that you can do is the work where you're not self-conscious, and you're not thinking too much about how people are going to receive it."
Looking back at her time in high school, Cormier cherishes the ways that teachers pushed her intellectually and built her confidence. As much as the heavy course load prepared her for college at Columbia and her work at The New Yorker, the questions teachers posed for her, the discussions she had, the ways she was taught to think, were just as—if not more—important for helping prepare her for the working world. 
"You need to be persistent, ask for help, be curious and be creative," Cormier said. "It's not just about working really hard, and I feel like Westview did a good job of encouraging all the different things you need to be successful in life. Engaging with the community, thinking about politics and thinking about the world around you. I have met a lot of people who went to really competitive schools, but weren't having the same conversations that I had with my friends at Westview about the world around us."