Finn plays drums for The Frights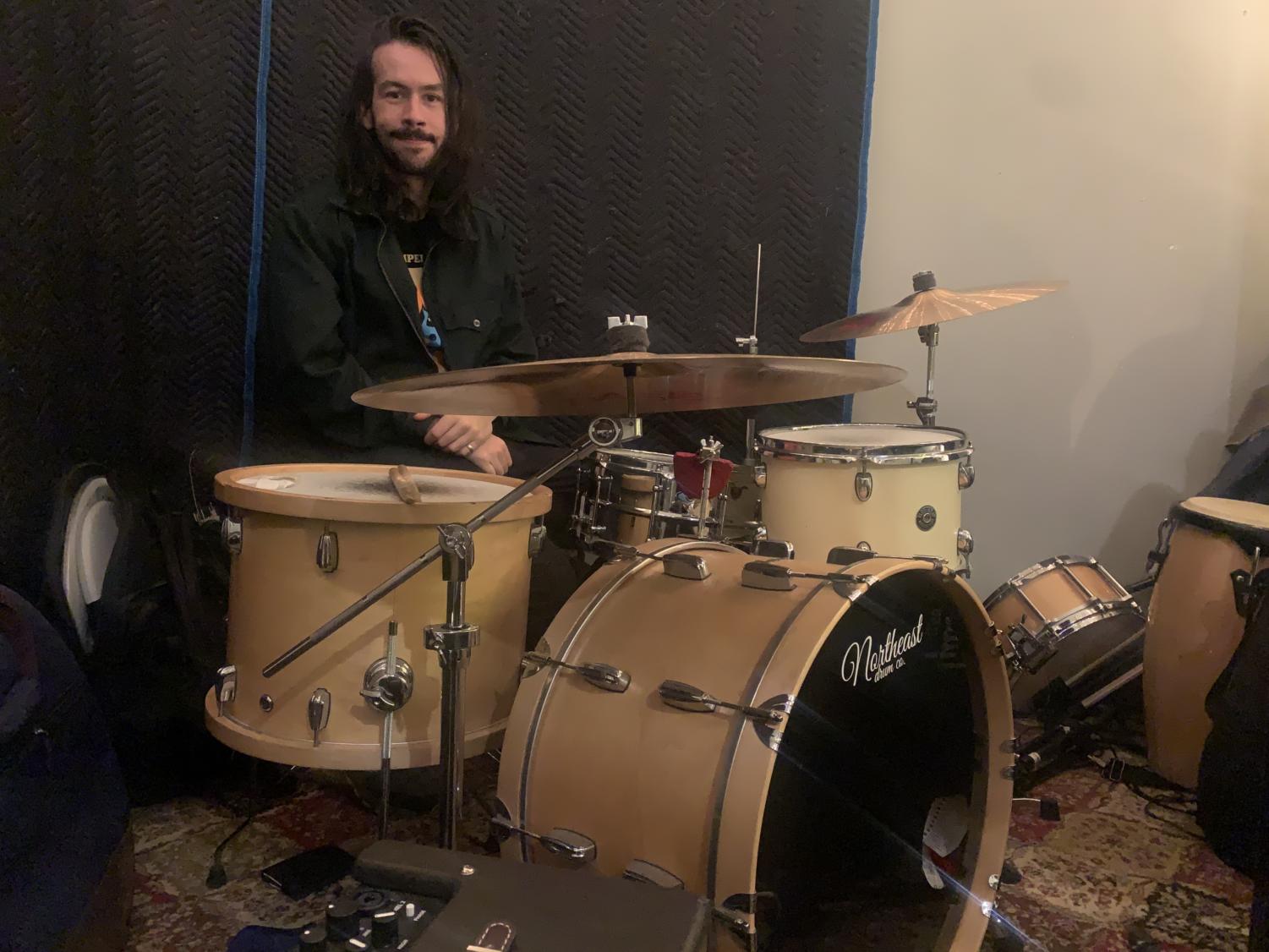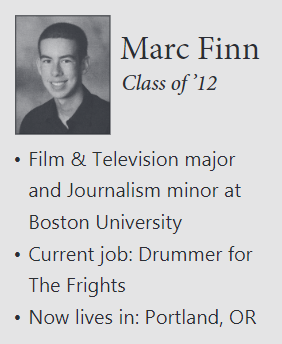 Piled in a tour van, towing their equipment in a trailer behind them, Marc Finn and his childhood friends set out in 2016 on their first national tour as the surf-punk band The Frights. The good, the bad. The glamour, the grunge. Finn experienced it all on the road.
"We did stupid long, 20-hour drives," Finn said. "We were delirious but we got to watch the sunrise. Everything feels like another memory and that's the best part about it."
What started as a hobby for a group of college graduates has become sold-out shows, millions of streams, and a big name in the indie music industry.
The Frights have almost one million monthly listeners on Spotify and more than 22,000 subscribers on YouTube. Before the official formation of The Frights, Finn and his friends played casually in local venues under the name The Cricks. While they were still students at Westview, The Cricks were even able to perform in the amphitheater after an improv show.
During his time at Westview, Finn joined The Nexus, which cultivated his passion for writing and journalism. Finn was a part of The Nexus for three years, where he served as a columnist and the managing editor his senior year.
After graduating high school, he and his bandmates split up while they attended college. Finn continued his education at Boston University where he received his degree in Film and Television with a minor in Journalism.
"I feel like I was somebody who would just want to write, but I think an English degree just kind of turned me off," he said. "I knew I didn't want to do that. So I heard about [Boston University's] film program, and that it was really good, and I was like, 'That seems kind of fun.'"
Boston not only provided Finn with his higher education, but the city's community also allowed him to foster his admiration for the music industry and gave him opportunities to start his music career. While in school, Finn spent time writing for music websites and playing for a smaller local band.
"I loved living where I lived and getting to know the people I did, and just being in a place I wanted to be for a while and trying to do stuff in a music scene that I thought at the time was so intimidatingly cool," Finn said.
Finn received his Film and Television degree a semester early, in January 2016 and then moved back to San Diego. He initially toured in California with the Frights as their videographer in 2013. Eventually, Finn was invited to officially join the band in 2014 as their drummer on their first full United States tour.
"It was very classic, crashing in WalMart parking lots and getting paid with food," Finn said. "That was a really big thing for my life because I realized how much I loved it, and I wasn't even playing in the band at the time. I was just like, 'Dang, this is what I want to do.'"
Finn had been playing drums since he was young but never thought he would get the opportunity to play professionally. Turning his hobby into a job was only made better when he was able to play and work with good friends he had known growing up.
"I always just thought it would be cool if I could play shows to begin with and then from there, it was like, 'Can I do it for a while?'" Finn said. "Then this thing comes around with three of my best friends from growing up and they're like, 'Let's just do this and see how long we can do it.' I don't think there was a point where I was like, 'Yeah, like, I'm gonna go pro,' but I've been really lucky to keep doing this."
As The Frights' popularity grew, they got opportunities to perform at large festivals including Coachella and Lollapalooza. They also travelled out of the country to play a few shows with the band Taking Back Sunday in the United Kingdom, Ireland, Germany, and the Netherlands.
"[Touring in Europe] would be really fun to see if we can try to do more at some point in the future," Finn said. "I would love to get to do that again to go work over there."
Finn especially enjoys playing shows in smaller cities during B-market runs. B-market runs are a type of tour where bands play in a big city followed by shows in the smaller cities surrounding it.
"[B-market runs] are my favorite kinds of tours," Finn said. "We haven't done that as much as I feel like we should but you know, I'm biased. We've got to do a lot of touring and I'm grateful for it all."
Despite Finn's preference for smaller shows, The Frights have sold out shows and played in large venues, including some in their own hometown. In early 2020, The Frights played an open air show at Balboa Park's Organ Pavilion, which was supposed to be their tour kickoff. This tour was going to bring an upgrade from the band's van and trailer as they planned to use a tour bus for their commutes, but their tour was cut short.
"We had one day and one night with [the tour bus]," Finn said. "It's a real game changer. We got a little taste of how much that improves the whole experience be-cause we're not as exhausted."
Sadly, when COVID-19 closed a lot of places and limited crowd sizes, the tour was canceled and the band separated temporarily. However, the show at the Organ Pavilion had a major impact on Finn and demonstrated the stake they've claimed on the local San Diego music scene.
"There were a lot of my friends and family that came in for that show that wouldn't normally," Finn said. "Having so many people I know from different stages of my life being there was really cool for me. It's such a beautiful place to play and I grew up going to Balboa Park, but I never thought I would play a show there."
Recently, The Frights have blown up among teenagers and are continuing to grow. The upbeat music features consistent themes of love and rebellion, which resonate with their young audience. This popularity is especially prevalent on Tik Tok with over 20,000 videos made with their song, "Tungs." Off of their 2016 album You Are Going to Hate This, "Tungs" went viral in early 2020 and now has roughly 37.6 million streams on Spotify.
"I'll get told months after it happened that we had a song that [went viral] on Tik Tok," Finn said. "Anything and everything can pop up at any time on [apps] like that, so it's just hard to keep up."
The Frights are continuing to work on projects but also have the flexibility to pursue their own career paths.
"We can all be doing whatever and just come back, tune up and get ready for what-ever product is next," Finn said. "It's been just so crushing with the pandemic. We're just trying to do what we can."
Despite the setbacks of the pandemic, Finn is grateful for how far they have come as a band and what they've been able to produce up to this point.
"I never thought I would still be doing this," Finn said. "No way. It's been a blessing."