Adams, Sawatzki shift to van lifestyle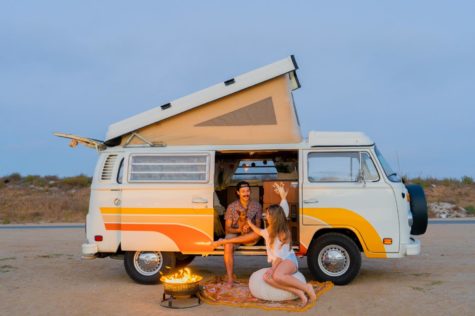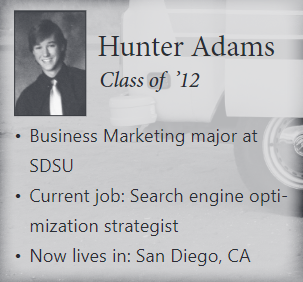 Bright and early on a June Saturday morning, Hunter Adams made two cups of coffee for himself and his fiancee, Hannah Sawatzki. After a few sips, Sawatzki slid the door of their 1974 Volkswagen bus open and stepped onto the ground of Yosemite National Park. With the sound of birds chirping and leaves crunching, this was the perfect start to their perfect morning with both home and nature in hand.
Adams and Sawatzki have taken their post-college life and turned it into an everyday adventure with their van, Luna, in a trend known as Vanlife.
The couple didn't make the decision lightly. Before choosing to live in a van, they weighed the benefits and drawbacks and arrived at the conclusion that this made the most financial sense for them while also giving them a degree of freedom and enjoyment.
"It may sound crazy because it's essentially choosing to be homeless," Adams said. "But we see it as an alternative lifestyle choice."
Their new lifestyle accommodated two of their primary interests: Adams' enthusiasm for cars and Sawatzki's love of nature and photography while allowing them to grow closer to one another.
"[Adam's] always been really into cars, but he's been doing more athletic things now like hiking and climbing with me and I think having this van has given us the opportunity to have a lot more hobbies that we can do together," Sawatzki said. "We always had my thing and his thing, but suddenly I'm now into cars and I know how to fix more things than ever and work on the van."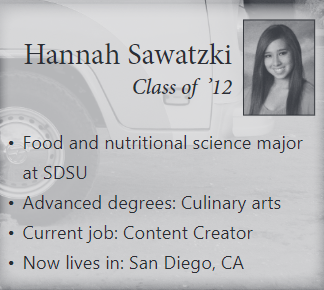 Even though the couple may seem inseparable, they never knew each other during their four years at Westview and three years at Mesa Verde, despite knowing the same people and even having the same general friends.
"We'd have the same teacher but she would have the AM class and I'd have the PM class," Adams said. "I'm sure there were times where I was going out the door and she was just coming into class, but somehow in the span of seven years, we managed to miss each other."
Then, during a Christmas party in 2012, Adams happened to stumble upon Sawatzki and start a conversation. They've been dating since, with Adams proposing this year.
After graduating, the two were already in a serious relationship. With Adam working for a digital marketing agency while Sawatzki at a wedding cake bakery. They seemed to have a good start to their post-college lives until the un-predicted happened: the spread of COVID-19.
"I don't think anyone really could've predicted COVID, but that's what really kick-started everything," Adams said. "I started working remote and there was something we needed to find to occupy our time."
For the two, it happened to be camping because it was an activity away from other people and allowed them to go outside. The first step they took was to buy a new camper.
Before their bus, Adams owned a Chevrolet Camaro and lived on the faster side of life, upgrading and modifying it and taking it out for high-speed rides.
"When the pandemic hit, it hit me 'why do I need 600 horsepower with nowhere to go?'," he said. "And so what did I do? I bought the complete opposite of the fastest Camaro; the slowest and oldest Volkswagen bus."
Adams decided if they bought the bus, the Camaro had to go and the money would be used to pay off the bus loan. They purchased the bus from a firefighter who kept it in good condition and with the majority of the interior work is already done for them.
"We did some bodywork [on the bus]," Sawatzki said. "We've upgraded some of the mechanical to make it safer and running well, but it turned out that the van runs exactly the way it would in the '70s."
Luna, named after its white paint and moon decor, is a Volkswagen with a Westfalia camper conversion. Its interior can suffice as a livable space with a stove, cabinets, and even a rooftop tent that acts as a bedroom.
"You can still feel like you're out in the woods without worrying about the critters," Adams said. "It's a bunk bed on wheels is what it is and we've been able to sleep four adults comfortably."
At first, since Adams was the one working from home, he took Luna to places with nice scenery while being able to complete his work.
"That old camper trailer turned into a remote office and I started taking it to places around San Diego like Sunset Beach and Ocean Beach," he said. "I'd hook up my laptop to my hotspot on my phone and work in the van. Why sit in an apartment when you could work from the ocean?"
They then began to travel to national parks and beaches across the west coast, going as far as the middle of Oregon.
From there, the couple began to gain support and popularity from the online Vanlife community because of their unique van and travels. Their supporters have also offered them a stable base of support and platform to make new friends and acquaintances who were all willing to give them advice and help.
One way the couple has gained traction is through their Instagram page, @packthebus, which Adams started primarily because he didn't want to post just car content on his main Instagram page.
"All my friends didn't sign up for car content so I was like, 'I'm going to drive my friends crazy if all I'm doing is posting about this stupid bus," he said.
"So I created this other page just for our photos and it's just snowballed in popularity while also giving us new skills in photography."
With more than 10,000 followers that Adams and Sawatzki, many brands like RTIC coolers and Bluetti have reached out to them to help monetize their products.
"After people saw the photos, companies would reach out to us and would give us a product in return for a photo," Adams said. "But then eventually some started asking how much do you charge for a photo with our product."
With more and more companies contacting Adams and Sawatzki, they eventually came to the realization that they could profit off of taking pictures while traveling and make it into a career that could fund their hopes of traveling all over the United States, all while living a cheaper alternative lifestyle that accommodates the couples' hobbies.
"Housing prices are extreme and almost unattainable these days," Adams said. "Again, it's not being homeless, but houseless, choosing to cut expenses and choosing experiences over material objects."
Still, there are inconveniences to switching to van life like showering at a nearby gym and inconsistent Wifi but the couple is willing to endure the difficult times that accompany their new lifestyle.
"You may see our picture on Instagram, but that's like 10% of the lifestyle," Adams said. "Yeah, you're going to be in beautiful locations but the reality of it is that you're gonna be in a Walmart parking lot."
Sawatzki and Adams currently have a single-room apartment in downtown San Diego but plan to make the transition to full-time van life next month when their lease ends.
"There's the [benefit] of cutting expenses and getting to travel to these amazing places," Adams said. "And then ultimately it gives us a lot of opportunities when it comes to our [new] business. We can do product photography for brands and parks without having to pay rent or worry about taking every weekend off to go to a national park."
Though their transition has yet to happen, Sawatzki and Adams are hopeful but uncertain of their future and want to follow where the wind and nature take them.
"I think our goals are to do as much as possible and to see as much as possible" Sawatzki said. "Once we've gained all those experiences, if we're still doing work related to that, then that's fantastic. If there's something down the line then great, we had this magical journey we'll never forget."