Earnest plays through highs, lows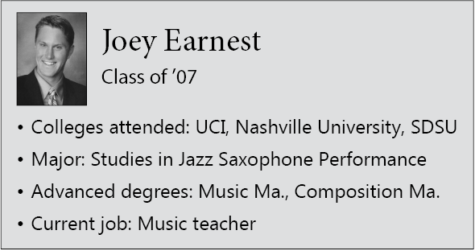 As the piece started coming to a close, band teacher Jeri Webb swiftly lifted both hands, letting all the band members know that the end was near. Awaiting the last measure, everyone played the last note, various tones resonating into one sound. Then, silence. until an improvised solo on a saxophone was heard, played by none other than Joey Earnest. 
"I get a rush and my mind enters an artistic musical realm, a state of flow," Earnest said.
It was times like these that made Earnest love the band so much.
"At the end of a song I would always add notes to the end of the song, soloing on my saxophone. It'd drive Ms. Webb crazy," Earnest said.
While many student musicians join GOLD so they can be part of a large band, Earnest was never a big marching band person. Instead, he opted for classes that were oriented completely around music.
"We didn't really have much of a jazz band, but I remember having a really good time with our [band] section coach, Sam Williams," Earnest said. "We had really great sectionals. I remember doing instrumentals and ensembles in band. It was basically like quartets, and that would replace marching band, because I only did marching band for one year."
He chose the path of performance and ended up being really involved with wind ensemble while playing band pieces occasionally.
When Earnest graduated, he decided to pursue his dream of becoming a musician.
"I had no idea what I was getting into," Earnest said. "I thought that [my future] was going to be in jazz, which was not even close to accurate."
After graduating from college, Earnest took a couple years off after getting a job as a music teacher at Westview.
"[Webb] hired me after college as a saxophone coach for a few years, and then I went back to grad school, and I had to, unfortunately, stop that job," Earnest said. "They hired an assistant band director who played the saxophone and I also started grad school the exact same year, so it didn't work out in any way."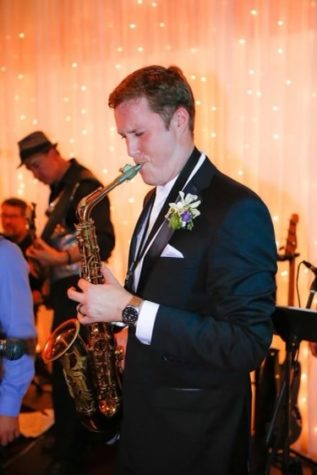 At college, Earnest majored in Saxophone performance. Unfortunately, taking the classes, expectations for what he would learn were cut short.
"I was hoping that college would teach me, or rather, tell me exactly what to do to become a successful musician, and that was not the case even slightly," Earnest said. "All [it] did was teach me music theory, some music history, and a thing or two about composition and performance."
After graduating, and realizing that college didn't prepare him for the true life of a musician, Earnest came to the conclusion that you didn't need to go to college to be successful.
"College is filled with a lot of debt," Earnest said. "Don't go unless you are 100% sure what you want to study, because it's a huge waste of money if you don't."
When he was younger, Earnest thought that his main source of income was going to be through performances; however, he ended up realizing that that dream wouldn't be possible.
"I did a lot of performing when I was younger, but performing at live venues doesn't pay a lot of money, even slightly," Earnest said. 
Even if a musician can get regular gigs at venues that pay well, it'll barely cover the bills.
"I definitely went into being a musician with a lot of naivety, you could say," Earnest said. "I thought that it would be easier to make ends meet. I thought that there would be better opportunities for performances. I thought that there was going to be a future in jazz, which was not even close to being accurate.  I was really ignorant about the realities of the real world, and I invested a lot of time into music and realized that I should also be good at teaching. At a certain point, I shifted a lot of my focus into teaching as opposed to performance."
Eventually, Earnest realized that he wasn't going to be able to make enough money doing gigs, so he shifted gears and aimed towards being a music teacher instead since that was the most stable job that he could get with his skill set.
As of right now, Earnest is working 70 hours a week, teaching 40 hours at a charter school and a community college, alongside weekly private lessons with individual students. 
"To be honest, it would just be nice to not have to work so much and to just be able to spend more time doing the things I love, like playing music," Earnest said. "I love teaching, but I honestly love playing music more. Playing music is where my heart is, but it's just kind of like a balance."
Even though Earnest loves playing music and doing gigs, he knows that if he were to continue doing them that it would be difficult to support his family in the way that he wants.
"It's a compromise," Earnest said. "You have to prioritize. I prioritize family, so since I did that it comes with its own decisions. There are times where I feel fulfilled. There are times where I feel completely underpaid and undervalued. I'd say the most fulfilling feeling is when my students are happy, and then when I'm with my kid or skiing or playing music. Working hard means that you can play hard too."