Four Harens, four paths, four stories
The Harens brought unique perspectives to Westview for its first 12 years.
The Haren family was a part of Westview for a very long time. A family of four, the eldest was a member of the very first graduating class and entered as a sophomore in the school's opening year of 2002. The youngest graduated from Westview in 2013. Two others graduated in-between.
Deidre, Jared, Jacob, and Jarvis all wore the black and the gold and shared the same last name, but each of them worked to leave their own unique mark on the school.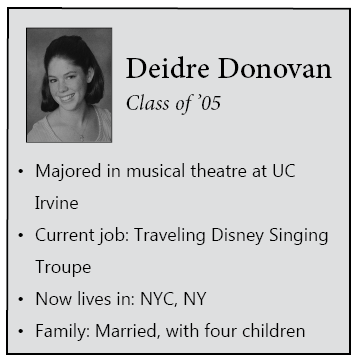 Deidre was the first of these siblings and graduated in 2002. She has returned three times for each of her brothers' graduations. For her, it seemed the same after every time. And 16 years after graduating, those first years of Westview's history are still fresh in her mind.
"There's a lot that I remember about the opening of the school, especially since that first graduating class was so close," Deidre said.
She served as the ASB secretary, helped start the Newscast, and was a member of the choir, all while acting professionally.
"That first year, we were figuring everything out," she said. "Nothing had been done there before, there were no guidelines for us to follow. We were piecing things together one thing at a time, and I loved being a part of it. And what I do remember about the very first days on campus was the little ceremony that we had. There had been little meetings about opening up the school leading to its first day, and I remember that there was a ceremony that we had where I sang the National Anthem to open the school. I remember that was something I was super nervous about but I ended up being so proud of."
Deidre recalls the rigorous class schedule full of APs, the school dances she helped navigate, the spirit days she came up with, and math teacher Bruce Hubschmitt's AP Calculus class. These, she said, were all positive experiences for her that helped prepare and propel her into college and onto a career.
"For sure, I was under a lot of pressure during high school, I was juggling so many things at once," Deidre said. "But I don't regret keeping busy all the time. I enjoyed all the classes I took, and because I wasn't sure if I was going into acting or math in college, I felt prepared for college. Westview helped me be a more well-rounded student and person. "
But as much as Westview prepared her for a demanding and challenging schedule, Deidre could not have been prepared for her move to the big city. She initially struggled as she ventured into New York city with student loan debt in her back pocket and nobody to direct her on the subway.
"I chose to major in theater arts and after college, I moved to New York," Deidre said. "I already had a job lined up, but that didn't mean I knew what I was doing. I had no phone, nobody I knew in the city, no way to properly interpret the subway map. I can't count how many times I got lost taking the subway, especially in the first few months. And New York is expensive, crowded and dangerous. I had a tiny apartment, and I slept on a mattress on the ground for a while. It was interesting to pull long hours and then fall asleep on a floor mattress. I even got robbed once when somebody broke into my apartment. Living there is definitely an experience."
Despite her initial struggles in the city and demanding work schedule, Deidre has stayed in New York to raise a family.
"I met my husband in New York," Deidre said. "I still live in the city, and now I have four kids to take care of. I sing and perform in a traveling company that is involved with Disney, so I have to travel a lot for work. That can definitely be a struggle being away from my family for long periods of time, but I love what I do, and I love my family. I don't regret anything."
Deidre is not the only Haren to have begun raising a family. Jared Haren, who attended Westview for two years with Diedre, has started his own family while working as a software engineer for Amazon in Irvine.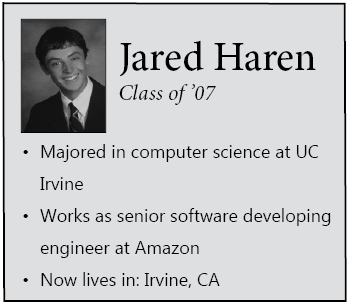 Though he may not have moved to the Big Apple or begun an illustrious career in the arts like his sister, Jared has had a very challenging, stressful, and yet rewarding experience during the COVID-19 pandemic.
"We moved to work from home pretty quickly when the lockdowns started," Jared said. "Working from home wasn't my immediate concern. My greatest worry had to do with my wife, Mallory, who was pregnant at the time of the lockdown. We weren't initially worried because my son wasn't due until August, and we thought that the lockdowns would ease up by then. But then the baby started to fall off of the growth chart, and the doctors called us in. Something was going wrong, and though they knew what the issue was. My wife and I ended up going into the hospital five months early due to concerns for the health of my wife and the unborn child. And with Covid, once you're in the hospital, you can't leave."
With the average weight for a healthy baby being around seven or eight pounds, and Jared's son being estimated at around barely more than one pound, Jared said that the hospital stay became very worrying. During his more than month-long hospital stay, he and his wife could only wait in anticipation, often with only the beep of the baby's heart monitor and the tapping keyboard from Jacob working, breaking the silence between the two.
"The circumstances surrounding the birth of my son Gatlin were absolutely crazy," Jared said. "So, the whole time my wife and I were in the hospital, I was tapping away doing work on my computer, my wife was strapped into bed, and the heart monitor was beeping away. We were constantly worried that something would happen to him, and that heart monitor steadily going helped give us hope. The doctors wanted to give the baby as much time as they could to help him develop before they did anything. But eventually they had to take action."
Jared looks back on the experience as nothing he wants to repeat, though there were more positives in the experience than he initially realized.
"Luckily, Gatlin turned out to be okay, and the hospital released us in the summer," Jared said. "It was kind of a blessing in disguise in terms of both of our work, because of how I was able to work from the hospital and be just as effective because everything was being done remotely. And she's a wedding photographer, so she was able to get more maternity leave because everyone had cancelled their wedding. When we got home, we both had more time to experience more of the "firsts" that go along with being new parents. The experience was something else, but I really treasure the times we got to have in those few weeks when we came home from the hospital. I really enjoyed that part of it."
Jared's son Gatlin is a now perfectly healthy one-year-old, and has recovered from the malnourishment he suffered from the conditions he experienced before birth.
In contrast to the experience that Jared has had with the COVID-19 pandemic, his brother, Jacob, had a very different experience, using the pandemic to move away from New York. Jacob used his free time to focus on improving his own mental and physical health.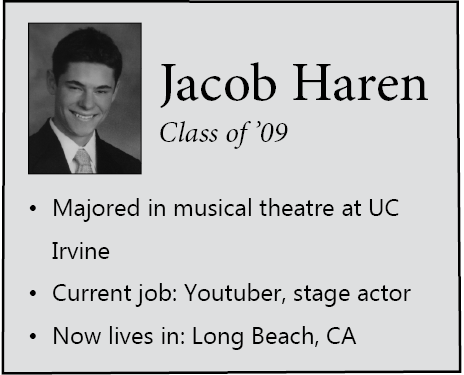 Jacob entered Westview while his brother Jared was at the school, and graduated a year before the youngest sibling Jarvis came to the school, Jacob has been acting professionally since before high school. While not tremendously involved on campus, Jacob had been acting with professionals since he was 8, and continued small show acting all through college. Making his Broadway debut in 2017, Jacob has loved acting and the opportunities it has offered him.
"I used to perform at Moonlight Theater in Vista with actual professionals, and I really found a love for acting in that time," Jacob said. "I worked at Disneyland during college, a dream of mine since I was a kid, and I was lucky to land my first big show, Rock of Ages, nearly right out of college. I continued acting in small scale shows, mainly in Southern California, until I got my big break when Bobby Lopez and Kristen Anderson Lopez, the composers from Frozen and a few other Disney movies, helped get me onto the traveling company for the musical that they wrote, The Book of Mormon. It was an amazing experience working with them and I was even luckier that after a few years, I got moved to the Broadway troupe of Book of Mormon in New York City."
Jacob said he has always loved acting as an expressive art, and will forever be drawn to the stage and the thrill of performing musicals for others.
"When you go out on stage, especially for the first time on Broadway, there's nothing like it," Jacob said. "I will always remember my Broadway debut, simply because being on that stage is just so exciting, so exhilarating. In those brief moments, the stage light is on you and hundreds or thousands of people are expecting you to tell a story with your acting. And it's like that every time you walk out. Even though I'm not looking into returning to Broadway right now, I'll probably end up there again, just because the energy is so high, and you can feel the venues that you're performing at and the history that is held within them. There's just something about it that is amazing."
Jacob has found that acting has even given him an opportunity to view the world and his place in it in a different way. He sees acting as an art form that provides him with a new way to see society, and encourages others to do so as well.
"I started viewing art in a different way ever since I took Ms. Tanaka's AP Art History class, and I recognized that actors play a certain role in viewing the world," Jacob said. "Artists everywhere have a responsibility to reflect the world around us and reflect things as they could be or have been. If you want to be an actor or any other kind of artist, just try to consume as much art as possible, learn about as much art as you can, because that can only help you understand your craft, and with practice, you will become an expert at your technique.
Jacob said that from a very young age he wanted to be an actor, even though he had no idea what either Broadway or big show acting were.
"When I was a kid, neither of my parents were big into theater, so I had no idea about Broadway," Jacob said. "But I did know one thing. And the thing I wanted most, and what drove me to keep acting was [Disneyland]. I wanted to work at Disneyland more than anything. The idea that people go there to have just a feel-good day and that being there makes people happy is what drew me. I wanted to be part of the reason that people were there, I wanted to be part of the reason that people were happy, and I knew that I could use acting to do that. And the best part was that in college, I did get that job. I arranged my whole schedule around it during junior year so that I could be part of one of the theater and dance troupes there. It was around six shows a day, which is extremely difficult, but it is still my favorite job that I've ever had."
But like every other industry, the acting business was flipped upside down overnight at the beginning of the COVID-19 pandemic. Jacob wasn't initially worried, but soon began to realize the risks he took by living in New York.
"At first, my show on Broadway and the industry itself wasn't particularly worried about Covid," Jacob said. "It began when we could no longer go out to greet fans after the show. And then restrictions began to go into place in New York. The day before the lockdowns, I told the stage and my dressing room goodbye before I left because I knew I wouldn't be seeing it for quite a while. The next day, Broadway shut down. And I was really worried about New York and the cramped way people are packed in there. I had to get out."
Jacob knew he had to get out of the city for more reasons than one. Though he knows there's nothing else like the experience on Broadway, he's glad he made the choice he did.
"When I look back on it now, I realize that leaving was probably more beneficial than I initially realized," Jacob said. "Living in a small expensive apartment in a massive city, while also doing eight Broadway shows per week was so physically and mentally demanding and exhausting. I had to get the heck out of there, so I stayed with some friends in North Carolina for a while. I got a break to rethink what I wanted to do during and following the lockdowns, and really just recover from the strain of Broadway. And that gave me the opportunity to work more on my YouTube channel (@JacobHaren). I was craving a creative outlet, and that gave me a sense of something fresh and new. Plus, I got to meet a lot of amazing people who I got to make videos with."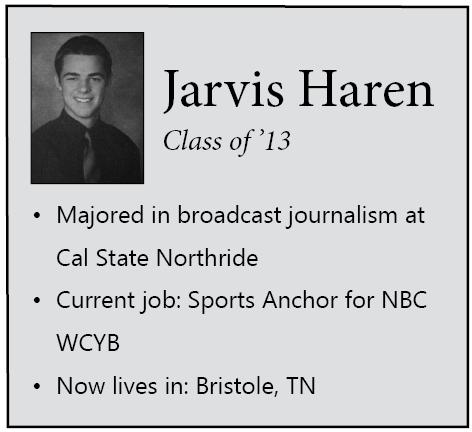 Jarvis, the youngest of the bunch, had aspirations of being under a different set of lights than the ones of a Broadway stage. For years, Jarvis wanted to be a news reporter or sportscaster. He had been practicing his newscasting abilities since even before Westview, but he worked on honing his craft at Westview. Looking back on his time at the school, Jarvis recalls trying to find his own path while being reminded of the legacy that his siblings left behind at the school.
"I had a huge amount of pressure from my older siblings having gone through Westview before me," Jarvis said. "My sister had helped open the school and was super involved in ASB, and was one of the founders of the Newscast. My brother, Jacob, had been acting professionally all through high school, and he was still even in choir. Even my brother, Jared, had taken a lot of APs and done really well in school. When I say it all out loud, I still realize how much they did, and how much I thought I had to live up to, and how that all just kind of weighed down on me. And it didn't help that I was always somebody's brother. Students and especially teachers practically labeled me as Diedre or Jared or Jacob's brother. I felt like if I wasn't living up to their standards, I was failing somehow. After sophomore year, I got over it a little and found things to be involved in and things that made me happy."
Jarvis used his dreams of sportscasting to overcome this pressure from the legacy left behind by his siblings. He focused on his dreams of becoming a sports journalist, and turned to The Nexus and his own Westview sportscast to explore the journalistic field.
"My family always tells me that when I was young I used to make random objects into microphones, and that's when I started to love the idea of broadcasting," Jarvis said. "After I was a part of The Nexus for a year, I wanted to do something of my own, so I started a radio broadcast. I hosted a post-game show, a play-by-play, and a post-game interview with the coach. I started with football, but it kept expanding as coaches kept coming up to me to ask me to continue for their sport. I loved that part of it. It was a great combination of introducing me to broadcasting, while still allowing me to have ownership over something and letting me do things the way I wanted to. That's something I can't say about the radio station I was a part of in college or the job that I have now. Though I would say that it's also nice to get paid."
Jarvis' interest in broadcasting continued through college, and after a few years of interning in California, he landed the job of his dreams: working as a sportscaster on television.
"I knew exactly what job I wanted: either a radio announcer or announcing on TV," Jarvis said. "During college, I was hyper-focused on graduating, hyper-focused on internships, hyper-focused on getting to the job I wanted. I do wish I did more extracurriculars and explored the world around me a bit more in high school and college, just so I could see what more the world had to offer outside of schooling. It's not like my colleagues and I talk about how we did in AP Calc. But I did get the result I was going for. For three years now, I've been in a job I really enjoy. I get to report on NASCAR, Virginia Tech, University of Tennessee, high school sports, and others. And I kind of get to pick what I cover, so that's an added bonus. I'm 27 years old and I got one of the jobs I wanted, so I think I'm doing pretty good.