Black Friday shopping celebrates the true spirit of Thanksgiving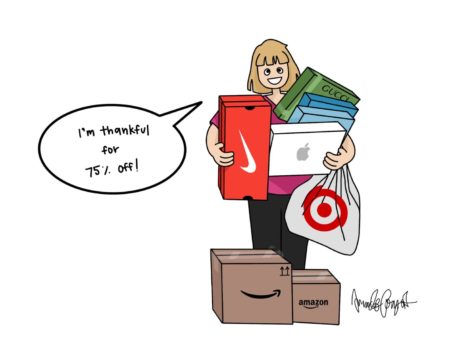 I've always been told that Thanksgiving is a time for family and gratitude for everything you have and the things that are important to you. But so what if we're supposed to be extra thankful this week? What's the use in being grateful for my old laptop when I can just buy a new one for 30% off? Everyone knows material possessions are the source of all happiness. And what better way to extend your gratitude list than buying expensive products at discounted rates? In my opinion, Black Friday perfectly aligns with the season of thanks, because who wouldn't be grateful for a new iPad at half-price?
It seems to me like some people are concerned with the injuries and deaths that overshadow the true joy of going Black Friday shopping. Mainstream media loves to over-hype isolated incidents like these to gain viewers and boost ratings. It's all a way for them to make more money. And anyway, if this week is supposed to be all about family, then shouldn't I be spending my time shopping for the people I love, including myself?
Black Friday is so important to American culture. By participating in Black Friday I'm supporting local businesses like Amazon and Walmart. If it weren't for consumers like me our country wouldn't have such a thriving economy to be grateful for.
Besides emptying my wallet and making it easier to carry, my personal favorite part of Black Friday is online shopping. It's a great way to visit a ton of stores without having to leave my house. It's so much faster and way more effective than driving or walking everywhere. Some businesses are so generous that they even offer free shipping with orders over $35. Now that's something to be grateful for! You can save so much money if you bump up your order total enough for free shipping. There's also a pretty decent chance (almost 60 percent!) that your purchase will arrive before the holidays so this is a great way to get gifts for family and friends for a cheap cost. 
Another great thing I personally love about Black Friday is posting all about the amazing deals I got once I'm done shopping. I know that all my followers will be so impressed once they see all the products I've bought. I always see my friends posting about all the money they've spent on their Black Friday purchases. 
I guess you can stick to your basic list of things you're grateful for if that's what makes you happy. Just don't expect me to settle for some boring thing like family, friendship, health or peace on Earth when I can spend my time scouring desiccated Target aisles searching for the best deals.