Boys cross country traverses large hills at Mt. SAC Invite, places 16th overall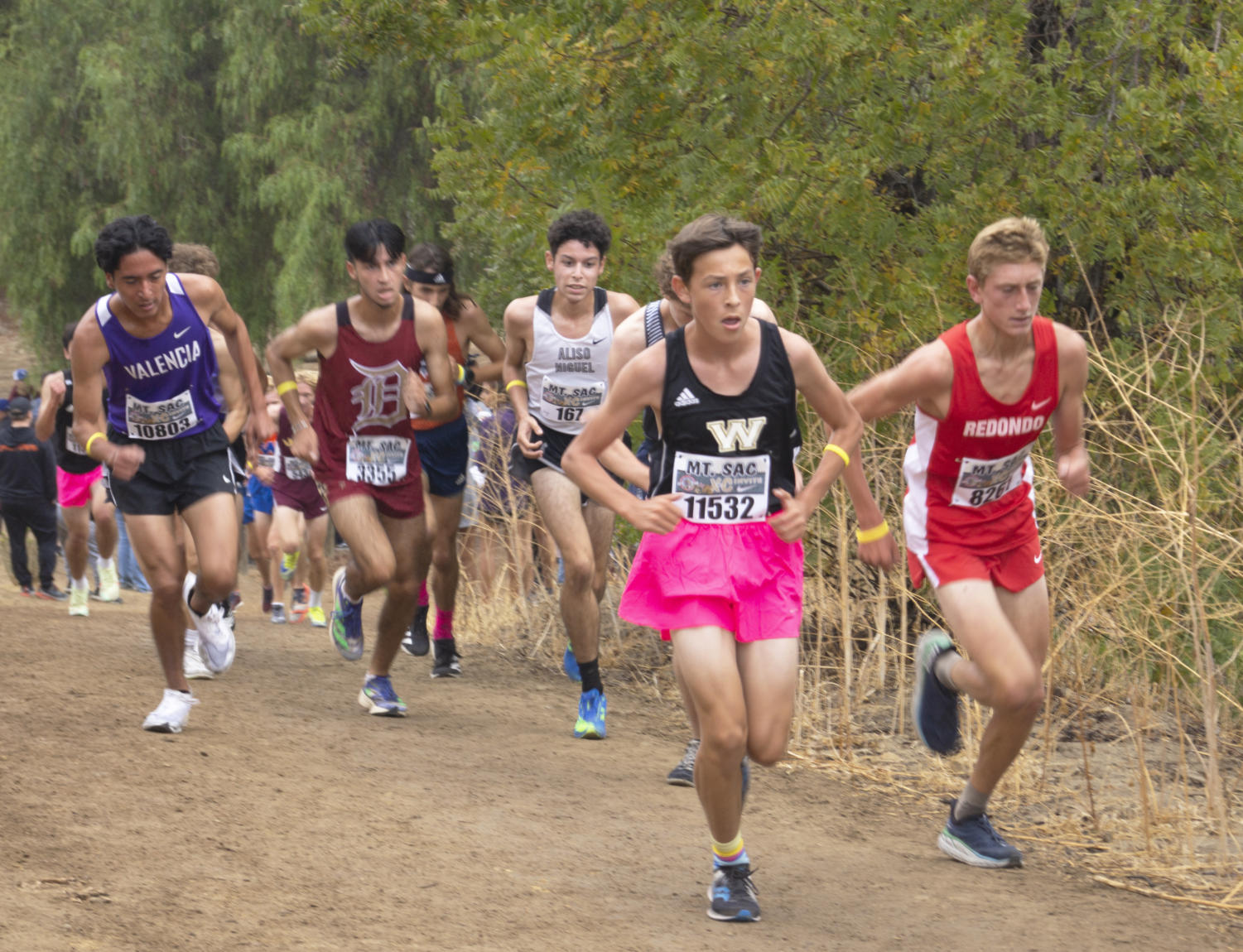 Cross country finished 16th as a team in the 73rd Annual Mt. San Antonio College (SAC) Invitational upon qualifying under the Individual Sweepstakes category, Oct. 23. The team competed in Race 59 against 20 other schools under the Boys Division 1 and 2 Individual Sweepstakes.
Mt. SAC's cross country course is a three-mile path that runs through part of the Mt. San Antonio College campus and the barren, hilly terrain that surrounds it. Mt. SAC hosts the event annually for middle school, high school, and college-level races, and due to the rigor of the course, the event is well-recognized within the cross country community.
According to coach Amanda Sandstrom, the team qualified for the Individual Sweepstakes category through consistent top performances at meets in San Diego County.
In order to prepare for this meet specifically, the team chose to iron out their hill-running technique in practice. Sandstrom said that the hilly nature of the course puts unaware athletes at risk of premature burnout. 
"They have a hill on [the course] that is nicknamed poop-out hill because athletes usually die and poop-out as they're going up that hill," Sandstrom said. "And so throughout the course of this season—as much as the athletes hate it—we have done a bunch of hill repeats. We've worked on our hill-running technique, our form, but then also how to not die once you get to the top of the hill. There's still a lot more race to be run so to continue progressing and speeding up past that hill, and then also downhill running because every hill you go up, you go down at this meet."
Having anticipated and prepared for the hilly terrain, Nathan Leroy (12) said he was able to notably improve in hill-running before the race.
"These workouts definitely improved my ability to refocus and continue to keep moving at a fast pace even after I've gone over the top [of a hill]," he said. "It can be really hard to transition from going up a steep hill to going down it because you're using a bunch of different muscles, so doing the hill repeats definitely helped that." 
The physical demands of the meet for these competitors was only half the battle. As a major invitational, the reputation around Mt. SAC puts mental pressure on the runners to perform.
"Mt. SAC was pretty intimidating to me," Leroy said. "It was my first time racing the course and it's supposed to be one of the most challenging cross country courses in the state."
Being able to mitigate the pressure from anticipating a race can benefit the athletes greatly. For Leroy, simply being in the presence of his teammates helped him sooth his nerves.
"Driving up to LA in a van with the team gave us a couple hours just to relax, goof around, and discuss our race strategy," he said. "Personally, it really helped me to take my mind off the upcoming race, which I think helped my performance." 
With overall results from the season in mind, both Leroy and Sandstrom said they were pleased with Westview's performance.
"[The current team] had some really great mentors who just graduated last year, and it's a shame that [the graduates] didn't get to have a season last year," Sandstrom said. "A lot of [current runners] are exceeding expectations, which is exciting."
Leroy said he was able to see progressive improvement throughout the season, noting periods of turbulence that lead to eventual growth towards the end.
"If a race or practice doesn't go to plan, I try not to think about it and instead move on to preparing for the next day," Leroy said. "I struggled finding consistency in the beginning of the season, but I think I'm finally getting in good shape. I'm pretty confident the team will be ready to be competitive at CIFs in November."