Mending Matters provides mental health support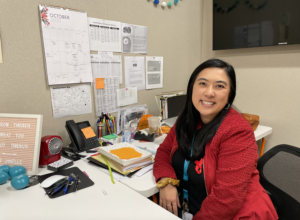 After noticing a spike in mental health concerns—specifically, suicidal ideation—PUSD partnered with the non-profit organization Mending Matters this fall to provide students with direct mental health care.
Prior to this year, Westview utilized "Caring Connections," a service affiliated with the district. When a counselor would see the need for therapy, they would refer students to Caring Connections to look at the family's available insurance and a list of therapists known to the district to develop a plan with the family. 
The school psychologists, while primarily focused on serving students with learning disabilities, are able to pitch in and help during a crisis. 
While the school psychologists and Caring Connections are still available, Mending Matters has now been stepping in with increased funding the district received due to COVID-19. 
In 2018-19, Westview had 52 reported incidents of mental health crises, covering suicidal ideation, suicide attempts, and self-harm. 
In 2020-21, a year completely virtual, there were 12 reported incidents. Principal Tina Ziegler said that the data during the pandemic is most likely an inaccurate representation of students' mental health needs, as virtual learning left many crises unreported. 
"The number of students coming to us with stress and anxiety or suicidal ideation has increased over the years," Ziegler said. "After the district did their research, looking at national statistics and other schools in the district, we reached out to this company [Mending Matters]. We noticed other schools in San Diego County were also using Mending Matters and seeing good results."
Janelle Lim joined Mending Matters this year as an associate marriage and family therapist. While Lim was passionate about working with families since her own freshman year of high school, she also really wanted to work with kids and youth. 
"At that time [in high school], I felt really alone," Lim said. "I'm an only child, and I felt isolated in my experiences. So I was like, dang, I wish I had someone to talk to. I didn't know who I could go to. I knew of a therapist that I didn't know how to access, so then, I just knew I wanted to be someone people could access and talk to. I wanted to not have kids feel alone in the way that I was feeling at the time." 
As Lim made strides in her career, she developed a greater awareness of the discomfort many felt discussing mental health. 
"No one was really talking about it [mental health] as much [a decade ago]," Lim said. "I think it held a really big stigma, I think it still does, but not as much as it used to. That fostered my own fire, that the need is here and this is really something I'm meant to be doing."
After working with youth as a teacher's assistant, she ended up providing kids in the juvenile justice system  with therapy and support groups for anxiety, substance abuse, etc.
Lim said she heard amazing things about Mending Matters and the services they provide. Her desire to work in a school environment drew her to the organization and after joining, she was assigned to Westview. 
"I love being at a school-based site," Lim said. "I think it's [important to provide] just an access to free mental health resources that I think a lot of students may not have the opportunity to [access] because of insurance, financial costs, and transportation, so I like being here and available for students throughout the entire school day."
After reaching out to 60 students, Lim has now been meeting with approximately 20 students weekly or bi-weekly, along with hosting group empowerment sessions to promote confidence and self-esteem. 
In her sessions, she starts off asking how the student is doing, what their mood is, and if they would like to talk about anything specific from their week. 
Lim's sessions last anywhere from 30 to 50 minutes during alternating class periods each week, depending on each student's needs. 
"I always try to be mindful because I pull you out of class," Lim said. "So I don't want a student to have to always miss second period."
Lim also receives approximately five to six walk-ins a week with students who just want to talk. 
She recommends for students who are interested in services to first talk to their counselor or teacher, who can take the next appropriate steps, whether it be a session with Ms. Janelle, the counselors or other support systems in place, such as the school psychologists and 'Caring Connections'. 
"I think a lot of students right now are experiencing a lot of anxiety and stress with being back on campus, which can translate to sadness and low motivation because it can feel very overwhelming," Lim said. "I think it's a big adjustment from the last year and a half, now having to be back full time with the same expectations in a new grade level." 
As Lim adapts to Westview, learning the needs of students and what events take place on campus, she says she thinks that this year is particularly special as it is the first year the district is partnered with Mending Matters. 
"I think the pandemic just has increased the need for mental health services," Lim said. "But I think regardless, the agency is just happy to be in the schools whether or not the pandemic happened, because now there's a new form of mental health support unlike ever before."