Robots could replace captive animals in the future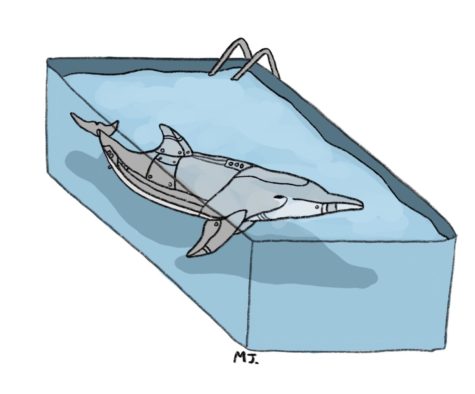 As an avid San Diego zoo and SeaWorld enthusiast as a kid, I've made some unforgettable memories during my visits to these wildlife parks.
There was always something that fascinated me about how animals interacted, moved, and ate.  Being able to walk up to their enclosures and aquariums made the entire experience surreal and never failed to leave me in awe. Maybe it was the surrealness of it all, to be up close and awestruck, just meters away with sometimes only a few inches of glass separating these amazing creatures from me that excited me the most. 
Even to this day, my interest in animals has inspired me to pursue marine biology as my major in college.
On one particular night, during my usual journey down the YouTube rabbit hole, I came across an interesting video in which an engineering group created a fully automated dolphin. 
Having to do a double-take, I completely mistook the dolphin in the thumbnail and in the preview as real. In the first few seconds of the video, the speaker disclosed that it was not in fact a living, breathing dolphin, but a very realistic-looking, controllable robot.
It crossed my mind that if this dolphin was able to fool me at first glance, how many other people could it outwit and what sorts of things can this piece of metal do, specifically in the sense of helping out us and animals? 
As I grew older, it became apparent to me that zoos and marine parks were not always ethical. Nor were they a proper setting for human and animal encounters.
It is painfully obvious that many creatures aren't living healthy or happy lives behind tank glass and iron bars. To some extent, animals in captivity are considered practical, like in the case of an endangered species, but  Will Travers OBE, the president of the Born Free Foundation, stated that "only 15% of the thousands of species held in zoos are considered threatened."
Despite this, it is impossible to ignore the fact that marine parks and zoos are a huge help to the economy. According to the Association of Zoos and Aquariums, zoos and aquariums contributed $22.5 billion to the U.S. economy in 2018 as well as provided 198,000 jobs in the U.S. alone. These zoos and parks welcome more than 200 million visitors annually.
 Those in favor of their practices argue that they provide a good source of entertainment, stimulate the economy by providing jobs, and give chances for scientists to observe these animals.
I recognized that there are valid reasons for keeping animals in zoos, but I also struggled with validating and accepting the ethics of it. For a long time, it didn't seem to me that there was no universal solution to satisfy the freedom of animals while keeping zoos and aquariums in business.
Until it seemed until I became acquainted with the robotic dolphin. It hit me that this machine could single-handedly simultaneously solve the grapple between cruelty and entertainment.
Throughout the video, the engineering group and narrator addressed the captivity and entertainment issue but also explained how replacing live animals with robotic ones could be the future of animal parks.
It may seem obvious that this dolphin and potentially other animal models will not be appealing because they are robots but the engineering of the dolphin made it extremely realistic to the point you would think it were real.
And it's not just its looks, the dolphin functioned like a real dolphin, easily being able to bypass thousands of zoo guests if implemented.
Critics argue that animatronics are too costly. The narrator stated that the dolphin cost between $3 and $5 million to make.
Although it may seem more expensive, it is also worth noting that hosting and owning live animals is extremely costly as well. Food, healthcare, grooming, and habitat maintenance all equate to a hefty amount as well. According to the city of Toronto, which is the location of the largest zoo in the world, it takes an estimated $38 million to operate, as stated in one article.
However, these mechanical masterpieces are economically beneficial in the long run as they will potentially save millions due to the lack of other expenses that would normally apply to living animals.
Replacing real animals with robotic ones would work  hand in hand with the process of releasing animals out of captivity. Not all animals need to be released and replaced at the same time and could be phased in through a process, meaning that a zoo or aquarium might have some machines and some live animals.
 Not only that but the robots mesh perfectly into habitats with different species. without disrupting the ecosystem.
At one point the team introduced the robotic dolphin into an enclosed marine environment and all the other organisms treated the dolphin as if it were real, which demonstrates that if an organism were to be taken out to be released and replaced with a robot, the other organisms would not notice a change and ultimately not disrupt the natural cycle in the environment.
Although the entire process will take many years, it seems to be the ideal option for zoos, marine parks, and of course the animals, while at the same time being cost-efficient in the long run.