Enemocon, Stevens break football norms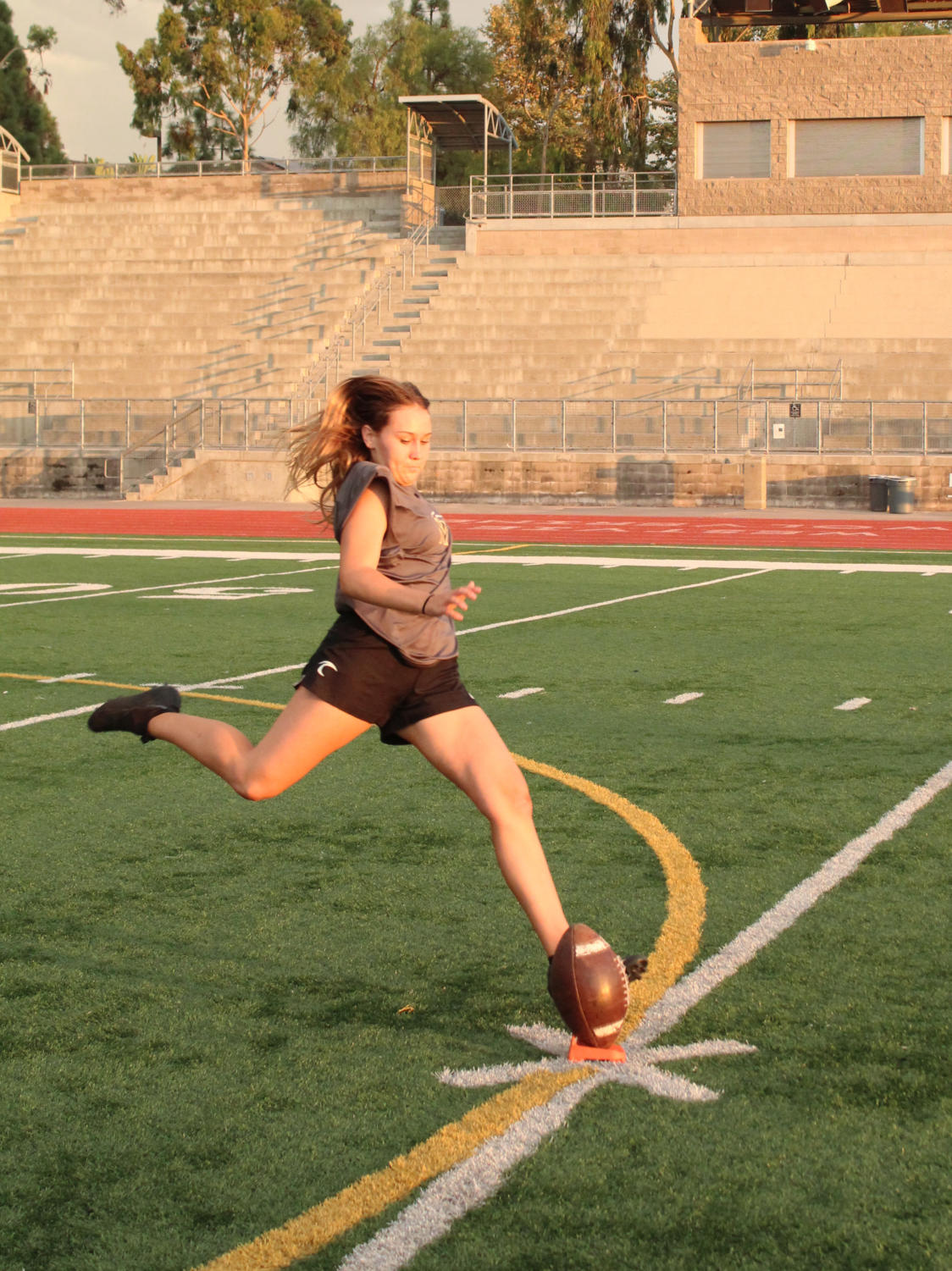 One evening in 2019, coach Ron Stevens realized his team was going to be down a few players for a big flag football game. His daughter, Ava Stevens (9), who was twelve at the time, stepped onto the field in a borrowed uniform and was prepared to play. 
Ava played defense alongside her brother, and in a highlight of the game, Ron instructed the two siblings to blitz. They both rushed towards the quarterback and worked together to sack him. 
"Ava stepped in and played without ever practicing, and she did fantastic," Ron said. "It was really fun having her and my son out there at the same time playing. She works hard, but she's also a natural athlete. It's the combination. "
Ava has played soccer since she was 5 years old and was recently accepted into an Olympic development program for the sport. Even in elementary and middle school, she was never fearful of playing against boys. 
"I just remember one time this poor kid at Willow Grove Elementary School was playing goalie," Ron said. "[And Ava] kicked the ball so hard, it broke his arm."
In soccer, Ava plays as a striker, a forward position that's responsible for scoring goals. Knowing she packs a powerful kick, her friends on the freshman football team encouraged her to become a kicker for them, so she did. Ava said the team and the coaches have been largely supportive of her efforts to learn.
There has also been increased representation of women on Westview's coaching staff. Knengi Martin, the defensive coordinator and head coach of the JV team, is notably the first female coach in Westview's football program.
Martin herself has had an extensive background in football. However, in high school, she only played during her freshman year. She had a positive experience with the coaches, but the players would intentionally pick on her and hit her so hard on the field that she wouldn't want to play. Ultimately, she decided the sport was too labor-intensive for her. 
However, when she was 18, she picked up football again and began playing for a women's league as a defensive player. Over nineteen seasons, she's played for all three women's national teams and has won three gold medals in her career. After 15 years of playing defense, when a vacancy opened up on her team, Martin started playing as the quarterback of the San Diego Rebellions, one of the 22 teams in the Women's National Football Conference.
In her past 12 years of coaching, she's coached five different girls. One of these being Sofia Enemocon (10), a kicker for the junior varsity football team, who started playing football at Westview two weeks before Ava joined.
"We can bond over the fact that we're girls on all-boy teams, [and] the fact that we're both doing something no one's done," Ava said. "[Sofia] checks in on me [about] how things are going with my team. We're always talking about how the teams are going, and we give each other support. Sometimes, it does get a little lonely when we have to change [by ourselves] in the girls locker room, so she makes it a lot easier."
Enemocon transferred from Horizon Prep in Rancho Santa Fe, where she played as a kicker on the varsity football team as a freshman. Because she missed Westview's football tryouts, she was placed on the JV team.
"It's been good, but it has been different," Enemocon said. "[There are] lots of new routes, and the playbook is just completely different, which is kind of stressful, but I'm learning."
Martin has been helping Enemocon get caught up on the team's offensive plays and teaching her how to tackle. (Yes, kickers do have to make tackles sometimes.) 
"She's always got a great attitude [and] good effort," Martin said. "I think she understands that because she got [to Westview] late, she's a little bit behind the curve. [So] she's always asking questions, she's always trying to understand, [and] she's doing everything she needs to do to try and get on the field." 
Joining later into the season, Enemocon has just reached the ten practices necessary to play a game. Martin said it's clear she had experience, but she needed to better familiarize herself with Westview's playbook.
"I know that she's played," Martin said. "You can see aspects of it here and there, but it's hard to [show skill] when you don't know the scheme that's going on around you. I feel like once we're able to get her in there, and she starts getting comfortable, then we're able to see what she can really do and then hone those skills from there."
Martin said she will prioritize Enemocon's safety to the same extent as any other athlete she coaches by teaching her proper technique and the fundamentals of football. In a sport where an injury is always a risk for any athlete, she said by coaching these basic skills, hence preparing her players for a game, she'll "lead a horse to water and hope they drink."
"For me, whenever I [coach] a girl, [I talk] to them and say 'Just show them you know football,'" Martin said. "Don't accentuate the girl-boy thing, just accentuate the football thing—you're here because you love football, and you want to learn how to play."
Martin said her experience coaching, not playing, has best helped her understand how to guide her female athletes.
"I've had to deal with either parents [and athletes who question], 'Wait, there's a girl? There's a female coach?' or another coach who [thinks], 'You can't be the head coach because you're female,' and they'll walk over and try to talk to somebody else," Martin said. "So I know what it's like to be a little bit different, but the thing that's going to get them to bond to you [as a player] is gonna be football."
In a traditionally male-dominated sport, Martin said women's football is growing. Initially, her male athletes would single out their female teammate trying to show her that 'girls don't play football' by putting a target on her back.  However, she now sees male players being especially helpful and supportive of their female teammates.
"I feel like I'm accomplishing something bigger than myself, for all women," Ava said. "I'm breaking new barriers that not a lot of people [have] broken, and I feel like I'm paving the way for other people, [like how] Sofia also helped pave the way for me."