Album Review: Montero
YJ Si, Editor-in-Chief
October 8, 2021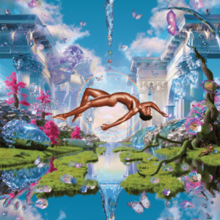 After nearly half a year since Lil Nas X's hit single "Montero" gathered controversy over its satanic imagery, MONTERO (the album) dropped Sept. 17.
The 15-track playlist continues Lil Nas X's open self-expression of his homosexuality. Throughout the album, he rolls through different genres—from the pop rap of "Dead Right Now" to the guitar ballad of "That's What I Want"—different styles that kept me engaged.
The first half of the album is boastful, and rightfully so. The blaring horns of "Industry Baby" and Doja Cat's feature on "Scoop" only emphasize Lil Nas X's lyrical confidence.
In so many lines, it's a unique and comforting touch for a mainstream pop star to openly embrace gay lyrics (which I can't quote in print, but if you've listened to it, you know what I mean).
Starting off with "Montero," his biggest hit since "Old Town Road," simply sets up the album with a callback to the controversial music video that really started Nas's ascension. The unfiltered self-expression in the lyrics and the Twitter storm that followed is a bold reminder that he's more than a one-hit wonder.
"Dead Right Now" takes a mixture of '70s soul instrumentals and low piano chords to the blaring horns that at this point have become Lil Nas's signature. Those blaring horns are heard once again in his latest single "Industry Baby."
While a lot of these songs can really make you go crazy singing along to them in a car, what Lil Nas manages to do with this album is surprisingly balanced. He rides a really fine line between hip hop and pop—jumping from genre to genre with trap beats, horns, distorted rock to calm strums of a guitar.
After adding the hype tracks to my playlist, though, the latter half of the album shifts to a more contemplative focus. "Lost in the Citadel" bases itself on a toxic lover who keeps coming back to his life, takes the quiet snares and the low-yet-frequent strums to ease into the slower songs of "Tales of Dominica" and "Void." The more exposed lyrics of these tracks don't make the music something to bang your head to, but rather something to reflect on (and maybe cry about).
Despite being a relatively short album, not even clocking in at an hour total, that keeps the whole thing short and sweet. Because almost every track is less than three minutes long, that just makes it that much easier to memorize and sing along when I loop it for the 17th time.
I especially loved the features. Elton John's piano ballad paired with juxtaposed lyrics in "One of Me" tied around trying to please somebody was a surprising (but unsurprisingly good) collaboration. His collaborations with Doja Cat, Megan Thee Stallion along with Miley Cyrus highlights the way he jumps back and forth across the line between hip hop and pop.
There's seriously a song for everybody in this album. As I mentioned earlier, it goes in a lot of different places genre-wise—I myself have sorted about half of the songs in my hype playlist and the other half into the one I play when I'm sad but I still want to vibe.
As someone who always considered himself straight, and whose family is so homophobic I can't even wear a pink shirt without getting weird looks from them, listening to MONTERO (and watching Lil Nas X's irreverent marketing tactics, which were hilarious, by the way) has been cathartic. Especially at a point in our lives when we are still exploring our identities as we approach adulthood, Lil Nas's music has seriously been important to me.
The album has been a way for me to start letting go of the idea planted in my head since I was small—that I need to marry a pretty girl and have kids, and that they need to do the same when they reach that age. Even if I still consider myself straight, I feel so much more comfortable being in touch with my feminine side.
In a way, MONTERO has been a way for me to reconsider my sexuality and overall identity. I hope that it's done the same for a lot of people.