Walpole finds place in LGBTQ community
After struggling with traditional femininity in ballet, Walpole feels more comfortable expressing masculinity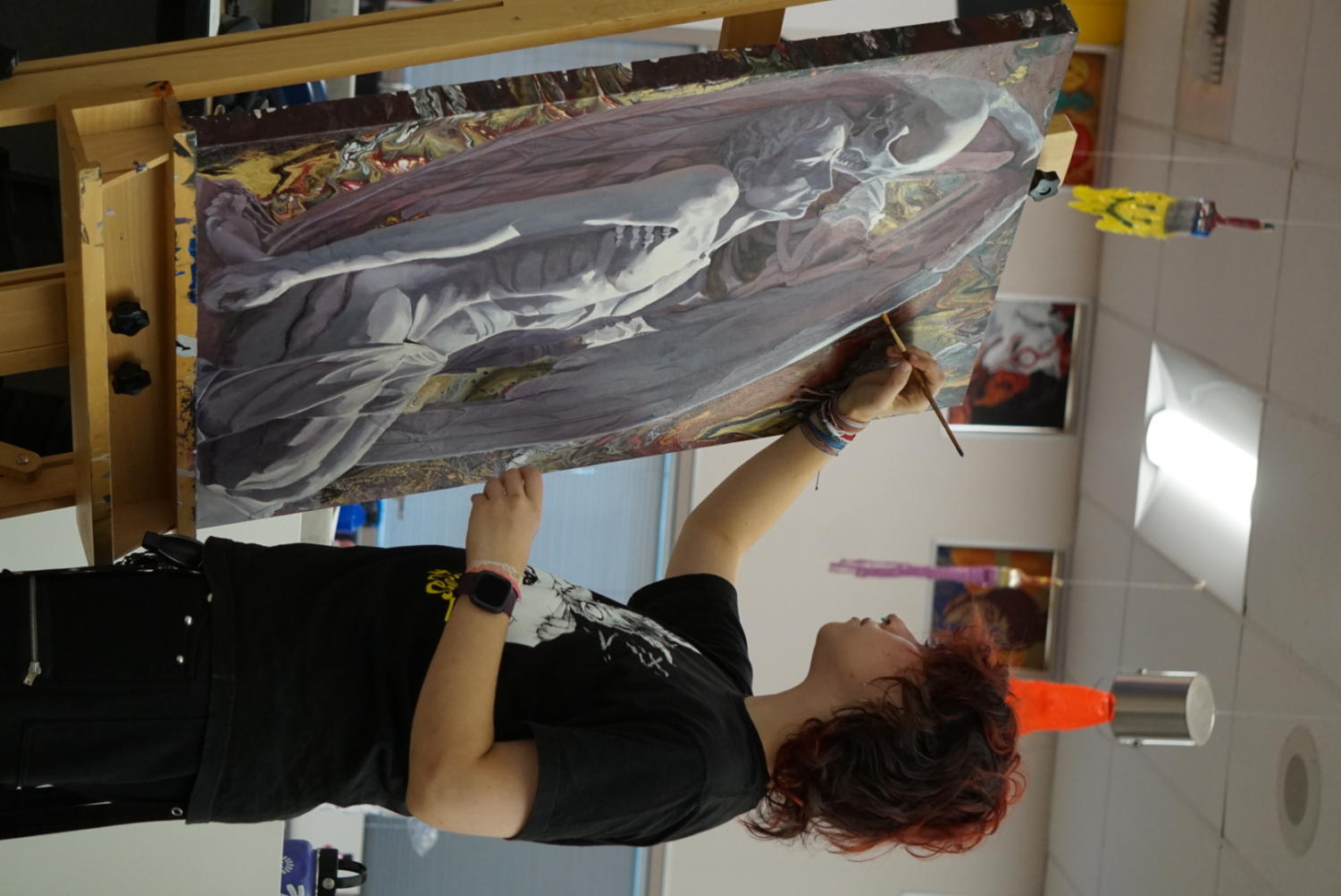 Max Walpole (12) blew out the candles on his 14th birthday cake and knew that his life would change forever.
"I got it in my head somewhere, because I was 14, that's when I was supposed to do this," Walpole said.
That day, Walpole came out as transgender to the first member of his family, his mom.
"She kept saying 'I don't understand' as an excuse to not be helpful." Walpole said. "I didn't feel great because I had seen people on YouTube coming out to their parents and getting support. I didn't get that for the first few months, until I started talking to my dad."
After initially coming out to his mom and not finding the support he needed, Walpole turned to his dad and step-mom. "My therapist gave them a bunch of resources and by the end of [the session] they offered to take me shopping for new clothes," Walpole said. "They joined Facebook groups and went to their own support systems. It was super easy for them but my mom is still stuck."
Before coming out to his family, a young Walpole spent plenty of time on the Internet, observing people's journeys with their transitions. As he witnessed strangers going through similar struggles, he began to figure out how to articulate his feelings of discomfort with his identity. Walpole also found support through online communities that aided him as he grappled with how to tell people before he was ready to come out to his family. As he watched accounts document their transitions online, he started to consider his option in exploring his identity further.
At the same time, these online communities introduced him to different means of self-expression, Walpole said the labels they encouraged had harmful effects.
"[Online], you had to have hyper-specific labels and that kind of messes you up," Walpole said. "I thought that I needed to have this very specific label that only pertained to me."
According to Walpole, these forced labels and prevalence of transphobia online barred him from having the confidence to express his new identity publicly.
"I was still 10 years old, trying to understand if [being transgender was] okay," Walpole said. "I thought that this—me isn't something that's okay."
These doubts came from the Internet and his extracurriculars.
Walpole danced competitively for 14 years and focused on ballet for 10 of them. He said that the prevalence of conventional gender roles within ballet caused him to hesitate identifying as male.
"I spent a long time labeling myself as non-binary because my presentation and interests didn't match up with the stereotypes," Walpole said.
But dance was only a performance, and Walpole eventually realized that performing feminine roles didn't have to translate into his life outside of dance.
"I'm grateful I don't really have an issue performing femininity," he said. "I definitely learned how to cope with that really fast."
Eventually, he started to compete in hip-hop and modern dance. Being able to separate himself from the conformity of ballet allowed Walpole to express himself more freely. He worked with Ian Isles, a choreographer, to create performances that symbolized important topics in his life, such as gender.
"He was probably the first out adult I met and interacted with," Walpole said. "He's been a role model for me for the past few years and is always a reminder that queer people get to live decent lives too."
Walpole also followed professional modern and contemporary dancers on social media, which reinforced his comfort identifying as a man while still performing.
"[The modern and contemporary dance community] is a very queer-friendly space, surprisingly," Walpole said. "To see true expression versus performance in dance, you can see that [modern and contemporary dancers] are truly feeling what they're doing and it's nice," Walpole said.
Stepping away from dance, Walpole started to realize that being feminine does not make you female.
"I thought that since I check these boxes, therefore, this is how I should label myself," Walpole said. "Getting into high school, I started thinking for myself and I discovered that I can be a feminine man. That's a normal thing for [cisgender] people, so why isn't it a normal thing for [transgender] people?"
Despite not dancing anymore, Walpole has found comfort in artistic expression, especially drawing and painting.
Although most of his early support came from the Internet, Walpole encourages young, curious people to be aware of their reliance on such platforms and persuasive Internet personalities.
"Do what makes you happy," Walpole said. "The hardest part for me is being okay with not labeling everything. If you want to transition, you should. You shouldn't rely on anyone's validation."