Homecoming to feature arcade games, live music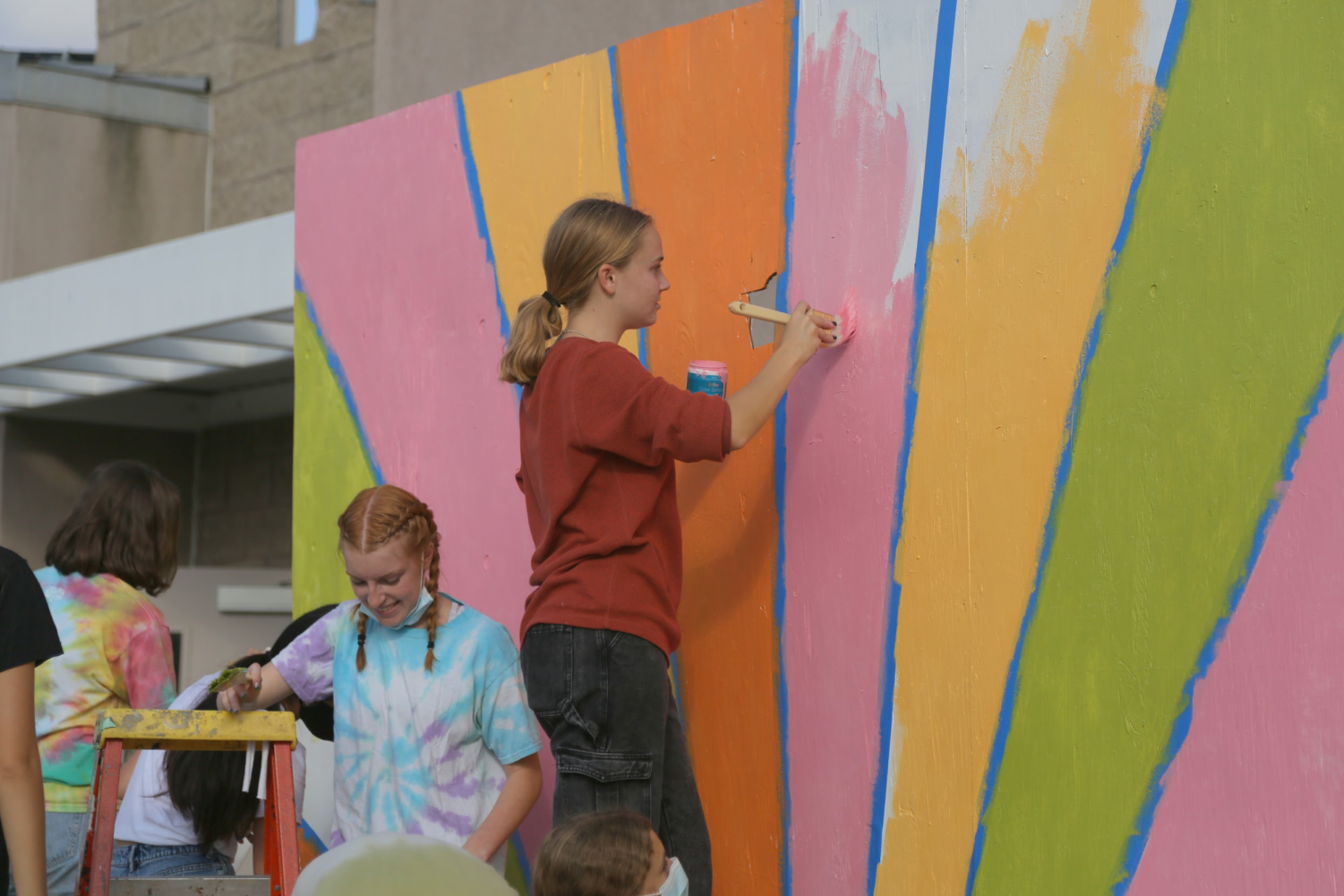 Micayla Lillie (10) dipped her paintbrush into a paint canister and covered the wooden float in a coat of white. Lillie made large strokes that stretched across the board and laughed as classmates beside her made inside jokes. Being able to participate in float building with her friends, classmates, and fellow ASB class members, Lillie said, was her favorite part of high school thus far. 
From Oct. 4 to Oct. 8, ASB hosted float building for each class respectively. As a sophomore class co-president, Lillie said that her main priority this week was float building with her class, which was a collaborative project that took 20 hours cumulatively after school. During float building, students worked together to paint wooden floats, each float representative of a different decade.
Senior class co-president Callie Mitchell (12) said that float building is an experience during which students are able to connect with their classmates. 
"In our normal lives, we go to school with our peers, but this is a time where you can really talk to people and get to know each other," Mitchell said. "When you're painting the backdrops for hours at a time, you end up having conversations with people you never would've had otherwise."
Savanah Perkett (12) said that participating in float building since freshman year has helped her connect with her classmates.
"What's different [from freshman year float building] is that we're a lot closer as a class," Perkett said. "It's mostly the same people doing it and you build a better connection with them, and some parents and teachers that are helping out, too."
During each night of float building, participating students were also invited to come together and share a meal catered by ASB, which Lillie also said helped her connect with her classmates.
"We really wanted to make [float building] more than just sitting and working for five hours," Lillie said. "We focused on making sure that it was a fun event so that people could actually talk to people in their grades and hopefully form new connections while building the float." 
Lillie said that the theme for this year's Homecoming dance is meant to mark the 20th anniversary of Westview.
For Lillie, this will be the first big event she has planned for Westview. 
"Last year was very compromised, and we [ASB] tried to make a virtual [homecoming] activity but we couldn't replicate the feeling of an in-person event," she said. "With our first, big-ticket event of the year, we wanted to create something fun to boost morale and set the tone for this year's dances."
In addition to float building, ASB will also continue its tradition of holding a Homecoming pep rally today. ASB Secretary Michael Braun (11), who was in charge of planning the pep rally, said that the main reason the pep rally was held was to build excitement for the game and dance. The pep rally featured performances from cheer, band, dance ROTC's armed exhibition, and choir.
Abiding by COVID-19 guidelines, the pep rally was held outdoors at the theater as opposed to having a rally in the gym.
"It's definitely more difficult than having a rally indoors because indoors you have the walls and the ceilings, and a lot more stuff that you can use to hang stuff to decorate with," Braun said. "We only have the seating and the railing to decorate with, so we got a back wall that would go in between the grass and the turf, so that way we could add some more decorations."
Despite the difficulties presented with the COVID-19 safety precautions, Braun said that planning the pep rally was a rewarding experience, especially after the past year of distance learning. 
"It's very exciting knowing that we [ASB members] have the opportunity to make the students excited and want to go to the dance," Braun said. "Being able to create a better culture and more spirit for Westview is what we aim to do."
ASB President Kody Mongold (12) said that another challenge ASB encountered during preparing for the Homecoming dance was growing accustomed to the new class dynamic.
"Half of our ASB class being underclassmen who have never seen any of our events before, there's been a lot of responsibility put on me to make sure everyone is on the same page," Mongold said. "As a result, we've found it difficult to keep up with deadlines, as there have been times where we were so focused on trying to solve one thing that we didn't even realize something else was coming around the corner."
Furthermore, in order to reduce risk factors, Mongold said that ASB's executive team made the decision to move the entire dance outdoors, which has resulted in a completely new set-up from previous dances. With these precautions in place, mask-wearing will be highly encouraged but not required at tomorrow's Homecoming dance.
"Relocating the DJ at the dance and relocating our pep rally are some of the more obvious changes we've had to make," Mongold said. "The fully-outdoors dance and wider layout is new. Usually, the dance is confined to the covered lunch area, but this year we are using the whole plaza."
ASB adviser DJ Sosnowski, who was an ASB adviser at Vista School District for seven years prior to teaching at Westview, said planning the homecoming dance for Westview has been unlike his previous experiences.
"For this year's homecoming, we're looking at hosting around 1,400 to 1,500 students, whereas in previous schools I've worked at, we've had around 900 students at most attending," Sosnowski said. "The order of magnitude is very different, and there is a lot more to consider in terms of what the students will enjoy."
Sosnowski said that the homecoming dance will also feature an arcade with eight different games, pinball machines, and a silent disco. 
Sosnowski said that the plethora of events available in this year's dance is due to ASB's increased budget and increase in ticket sales, which has not only been evident at Westview but also at Poway, Mt. Carmel and Rancho Bernardo. 
Mongold said that the boost in ticket sales has instilled a new fervor in the entire ASB class.
"So far, ticket sales have been phenomenal, and so I hope that this dance will be one of the best we've ever had," Mongold said. "People are super amped up to be able to participate in dances again, and for underclassmen, this will be their first high school dance whatsoever."
After being able to work with her fellow ASB classmates on preparations for the homecoming dance, Lillie said that she is excited for future events.
"Having all the ASB students together at once has been so much better," Lillie said. "It's great to be able to communicate with each other and form class relations. I am excited to get school spirit back up for this school year." 
Sosnowski said that since the dance will not only be a first for freshmen, but also for sophomores, he hopes to create an experience that meets all of the students' expectations. 
"I am looking forward to providing a safe place for students to come together again," Sosnowski said. "I want to make sure that this dance can make [students] happy."