Jacobs pursues interest in music, writes, performs
Bryce Jacobs (12) sees music.
When a song appears on the radio, he visualizes where it was recorded, when it was recorded, what record label it was on—and sometimes, even the "color" of it. When talking about music, he utilizes his hands to express his vision, in hopes that we see the same beauty he does. When interviewing, he holds up the voice recorder like a microphone, envisioning himself on a stage.
But prior to sixth grade, Jacobs hated music. At the time, he felt he needed to fulfill the role of the stereotypical older brother and thought, "Shoot, if my sister likes music, music sucks."
Everything changed, however, when he joined his middle school band as a percussion player, signed up for private drumming lessons and listened to the entirety of a CD his dad recommended to him, one by Midnight Oil. That was when, in his eyes, life began. As his experience with music expanded, so did his affinity for it.
Since then, he has learned to play virtually every instrument he can get his hands on, including bass, marimba, synthesizer and guitar. He has participated in bands from a variety of genres, taking something new from each one.
"In my head I have all of these ideas about certain bands I want to play with," he said. "I want to cover all genres with my music."
So far, Jacobs has played in four bands outside of school, two of which he currently plays with. His very first band, Meridian, was formed his freshman year.
"We sucked, but it was so much fun, it was the best thing ever," he said. "I put a Facebook post out to the marching band group [asking for band members] and a bunch of seniors responded and it was scary [at first]. But then they came to my house and then we played music and it was lit."
It was with this band that Jacobs publicly performed for the first time at the Epicentre, an all-ages music venue that closed in 2015.
"We were so bad, but it was so fun," he said. "I was just a freshman, I was just drumming, but being with your band on stage was [amazing]."
The band split up after a majority of its members graduated and left for college in 2016. But, Jacobs decided that his career in music was far from over.
His next band went by The Musician's Exchange, a group in which he played drums, cajon, and bass. This band was formed with The Musician's Exchange Club, which Jacobs formed his sophomore year in hopes of starting a community of musicians at Westview.
In this band played Lauren Cotner (12), Kent Shin ('17), Skyler Shibuya ('16), Jared Petry ('17), Jordanne Greenberg ('17), Sam Kumar ('16) and Marga Fernandez ('16). With The Musician's Exchange, Jacobs' performing experience expanded, as he played at Westview's fashion show in 2016 and at a show hosted by Lionturtle Records, a San Diego-based independent record label founded by Kumar.
Now, he plays drums and vocals for Clickbait, a band he formed with alumni Isaiah Imson ('16) and John Kennedy ('16), and drums and bass for Pamela, a band based in Santa Cruz, to which he sends recordings of his instrumental parts. By participating in multiple bands, Jacobs said he hopes to reach out to a variety of audiences through different genres.
Clickbait, which he said is heavily inspired by the "San Diego surf punk scene," plays more upbeat music, whereas the band in Santa Cruz has a more mainstream twist, as it is made up of a rapper and a DJ. Jacobs said he hopes to form a third band, one he plans to make primarily acoustic and hopes will reach out to fans of pop music.
Currently, he is also working on what he refers to as the "big master plan of Bryce Jacobs." As he has a large array of written music in varying genres, he hopes to hand some of it off to aspiring bands in the future.
This idea was largely inspired by George Clinton, an American singer, songwriter and record producer responsible for the funk collective during the 1970s.
"I'm stockpiling music," he said. "I'm recording stuff at my house, and I'm writing all these songs to take with me to college. I'm going to start a record label at whatever school I go to, bring people in, give them my songs. I'll have my band but then I want to write some songs for other people. It's going to be the new p-funk empire, the San Diego sound."
Much of Jacobs' music knowledge comes from his love of music history. He spends hours at a time reading up on his favorite bands, and his bookshelf is filled with autobiographies of various musicians.
His music room, which is filled with guitars, basses, a drum kit and seemingly endless piles of CDs and records, is covered in posters from his favorite influencers, which vary in genre and time period.
"My personal influences [are] psychedelic music, '60s and modern, like Tame Impala and Pond," he said. "A lot of funk music [influences me], a lot of p-funk music, '70s music like that. We also have our local scene [in San Diego], surf punk. That's also influenced [me]."
Concerts also played a major role in Jacobs' love of music.
He recalls attending his first concert, seeing Westview student-led band Buddha Trixie in 2014, in great detail. There, his inspiration didn't come from the music, but from the energy of the crowd.
"Concerts are where all the energy is," he said. "If I hadn't gone to concerts, I wouldn't know what the crowd's into."
Now, Jacobs lost track of how many concerts he's been to, but claims it'd be nearly impossible to count. He sees each of those concerts as a learning experience, as he observes the different tactics musicians utilize in order to ensure that energy is high in the atmosphere.
If Jacobs' time isn't filled with band practices, reading or attending concerts, he spends his days recording music and practicing his instruments.
"Some days I'll be mixing music for eight hours straight, and I'll never eat," he said. "That's summer, or during a break. Then some days I'll practice guitar for a half hour, then practice drums for a half hour. I always have a lot of music writing time during the week. I try to write a song a week, [even] if they're not always worth keeping. I consider listening time [to be] studying too. Like last night, I was watching reggae music for four hours."
Jacobs takes part in virtually every part of the music-producing process. He has written more than 30 songs, most of which he plays a majority of the instruments for, and records, mixes and edits to form the final product. But out of each step in the process, he said that nothing beats listening to the final product.
"The best feeling is when you're recording music, and you listen back to what you just made," he said. "You're listening back to what you've made but in the moment you've made it. Once you record a song, you have to hear it like 100,000 times when you're mixing it. But the first time you hear back what you've made is always the best."
With each new album he listens to, another stack is added onto his growing pile of CDs. He hopes this stack will keep growing, and that one day, his music will be a part of it too.
About the Writer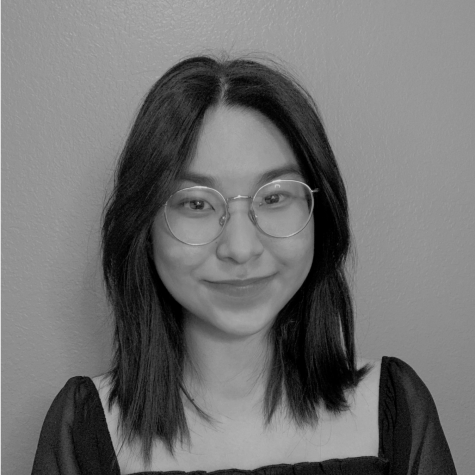 Alice Chen, Editor-in-Chief
Alice Chen is a senior and an editor-in-chief of the Nexus. She likes books, video games, and Studio Ghibli movies. She does not like math and sans serif fonts.