Soe volunteers as piano tutor, finds fulfillment in teaching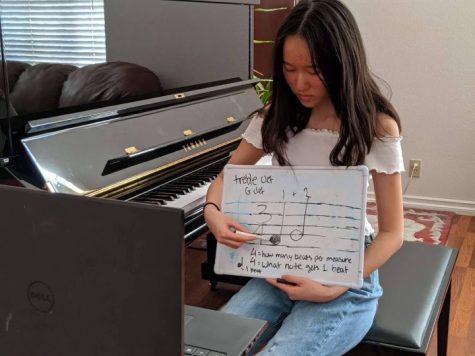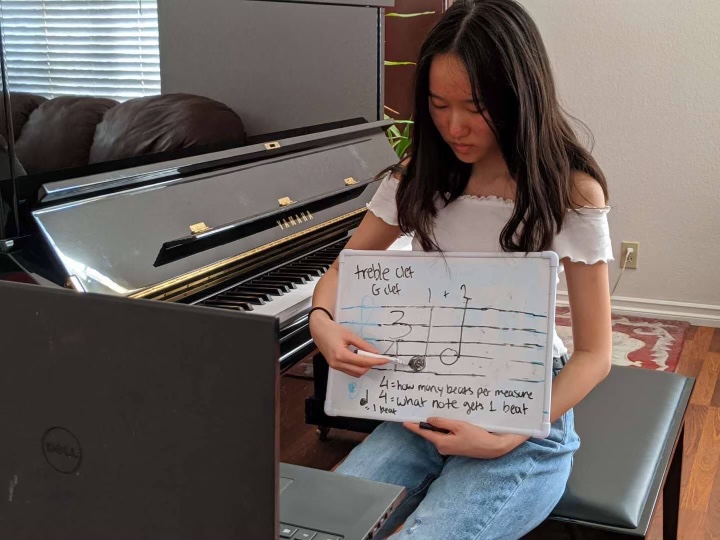 On any Monday, Thursday, or Friday after school, you can find Tiffany Soe (11) warming up her piano students by playing small games.
"Sometimes I play with my kids," Soe said. "I feel like that does loosen them up a little bit. We play note-quizzes, [where] I'll play a note on the piano and they tell me the note."
The classes, which take place over Zoom, are thirty minutes long, and during the half an hour she is given with each kid, Soe instructs by going over the fundamentals of music, or critiquing the way pieces are played.
Soe first began these lessons in mid-July, after joining the organization music4kidssd. She volunteers to provide musical access opportunities for underprivileged kids, as well as to raise funds for musical instruments, in the case teaching the children of families that can afford the organization's one-time beginning fee.
"What they're doing is really very cool," Soe said. "I've always liked helping people and playing piano, so this gives me a great outlet to combine my two passions."
The organization is based in San Diego and consists of high-school volunteers who give their students weekly classes, after parents with the means to donate a one-time fee at the beginning of the student's enrollment. That money then goes to procuring instruments for students who are unable to afford them.  As a volunteer teacher, Soe is a crucial part of the teaching system, as well as the musical education of each of her three students, which she's been given room to plan as she likes.
"All the teachers have their own ways of teaching," Soe said. "So there aren't any guidelines for us to follow, it's just based on what we believe the student needs. It's based on our instinct, [which comes from] our experience with music."
Outside of class times, this means making her own music worksheets for students to complete as homework assignments. In class, the flexibility allows Soe to adjust lesson plans based on the different levels of her piano students, two of whom came to her with no music experience at all, and another, with two years of prior experience.
"There was this student who is 9 years old," Soe said. "We started with a primer book, but when we played the songs, she knew them immediately. To [adjust for that] we then moved onto the level one book."
According to Soe, for the other two first-time students especially, it has been especially crucial to make sure that foundations are properly set.
"They basically came to me with no experience at all," Soe said. "So I'm the one that's setting them up for playing piano for the rest of their lives. I've been a little nervous about it, but after my first few classes it's gotten easier."
To Soe, the experience has been mainly fruitful, if a bit difficult at times. Most of the hardship stems from being completely online and unable to directly interact with her tutees, as correcting playing through a screen instead of being hands-on for an obviously high-contact instrument makes it difficult to keep classes on track.
"My first student was very chaotic," Soe said. "She couldn't focus very well, and was always running around with her camera, calling for her mom. There was a water bottle by her piano, and she was always spilling that, as well."
In order to deal with that, and any possible future issues with her students, Soe found herself connecting with parents, in order to ensure that classes stay on track.
"The 7-year-old boy with two years of experience has his mom help him out during the lesson," Soe said. "Whenever I say something, she is there to help out. I also have another parent who sits next to their child, and asks questions for her  because she doesn't want her daughter to misunderstand. My 9-year-old student has her mom sit out of frame, and she pipes in during the lesson, and acts as supervision."
Besides maintaining the productivity of lessons, Soe has also found it important to develop connections with her students.
"You really have to get them out of their shells," Soe said. "But there's no real set way to do it. You really have to go along with the personalities of the kids. One of my students [now] asks a lot of questions, and initially she was very quiet when interacting with me, so it's nice to see her development."
Soe's progress on this front has been hindered by the lack of in-person teaching. Despite her fond memories of learning piano and being awarded with small toys when she did well, due to the distance of online learning, she has been unable to encourage her own students in the same way.
"I wish we were in person because then I could give them stickers and candies as rewards," Soe said. "That would probably loosen them up a lot more and encourage them to learn like it used to for me."
Regardless, in the case of one student at least, persistence and care has been the key to developing bonds, even if they are weaker than Soe would like.
"I think I got her out of her shell because of her curiosity and thirst to learn," Soe said. 
Long-term, besides further connecting with her students, Soe sees herself continuing to volunteer as a part of the organization, as well as beginning to teach music outside of her current commitments.
"I think that eventually I'll move onto actually making money from teaching students as a paid tutor [once I get the necessary experience]," Soe said. "However, I'd still continue volunteering with this organization, because I really enjoy teaching, and helping people has always been a passion of mine."
For now, however, Soe finds working with her students both fulfilling and educational.
"Since it's my first time doing anything like this, every lesson is like a new experience," Soe said. "I feel like I'm learning new things about patience and teaching, even as I'm tutoring my students. It's something special, that's for sure."
About the Writer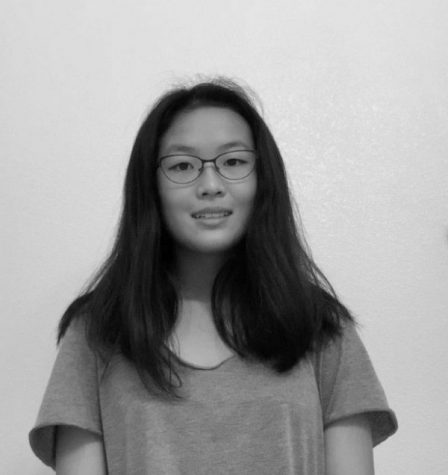 Amy Wang, Web Editor
Amy (10) is web editor for and in her second year as a part of The Nexus. When she has the time to, she writes flash fiction, reads, and spends time with friends. She hopes to major in computer programming, or creative fiction.