Health and Nutrition Club make masks for PUSD workers
When PUSD employees were in need of protective equipment against COVID-19, Health and Nutrition Club President Aakarsh Vermani (10) stepped up to help. On April 7, Vermani delivered 60 homemade masks to the PUSD main office.
It took Vermani three days to research and prepare for the making of the masks. He said he wanted to do something useful as efficiently and quickly as possible.
"I really wanted our club to help out with the current coronavirus situation in a meaningful way," Vermani said. "It seemed like a great way to help the community during these tough times, so I asked members of the club, and many of them were on board with the idea."
The PUSD food and nutrition workers needed masks the most, since they are directly serving food from schools to students all across the district during this time. Vermani said he and the club members wanted to help the workers stay safe, as they are putting themselves at risk to help others.
Club member Darren Zhou (10), who participated in the making of the masks, said he wanted to give back to the community. Zhou said learning to make homemade masks was also helpful during this time.
"This let me realize how serious this pandemic is and that we should be more grateful that we are even able to have access to these masks," Zhou said.
Vermani first researched the many different types of homemade masks. He then found a way to make masks using dinner napkins, as its cotton and polyester blend made it so that they were soft and effective. The cloth allows the masks to be washed and reused multiple times. Next, Vermani went through retail websites to order the dinner napkin fabric. He used the club's funds and asked for small donations to cover the cost. Vermani said finding a site that could ship the napkins quickly proved tricky.
"The main difficulty was getting the materials on time and getting the masks made on time for them to be useful to the PUSD employees," Vermani said.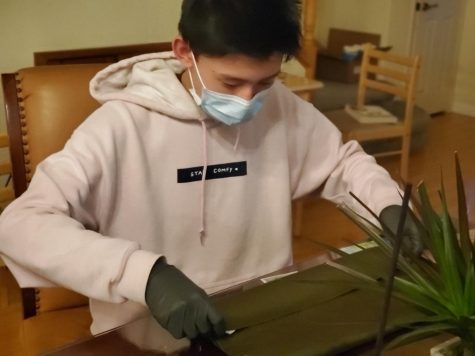 On April 5 and 6, Vermani, vice president Ethan Lin (10), secretary Jenna Ho-Sing-Loy (10), and members Brady Imperial (10) and Zhou each made 12 homemade masks, for a total of 60 masks. Each person used proper personal protective equipment and wore masks and gloves as they made the masks. They also made sure they worked in a safe and clean environment, either inside their homes or in their backyards.
Ho-Sing-Loy said she was glad the mask-making process went well and that they followed through with their plan. 
"Even if 60 masks might not make the biggest difference, it was a nice thing to do," Ho-Sing-Loy said. "I hope it shows people that there's something good to take away from this whole situation, and it could maybe inspire others to do the same."
Vermani said he was happy the club was able to donate the masks on time, given that they only had a few days to complete the project.
"I'm very grateful for the opportunity that our club got to serve the community during this difficult time," Vermani said. "I'm also very proud of my club members for stepping up and delivering so quickly."